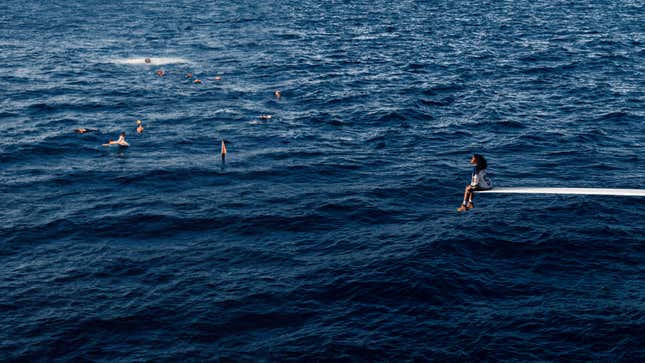 The beauty of a good album cover is that it can perfectly encapsulate the mood of a dozen or so songs in a single image or illustration—and that's a difficult feat when you only have a square-sized canvas to work with. In order to depict the world that an album takes place in, musicians and their designated team of photographers, stylists, and/or graphic designers spend weeks or even months pouring all of their blood, sweat and tears into designing the perfect album cover that will sit on your shelf or favorite streaming service.
However, leave it to the tech bros across the Internet to imply they know artists' work better than those artists do. With Photoshop's new generative fill tool—which uses artificial intelligence to generate an expanded section of a piece of work—pro-AI knuckledraggers across Twitter are revealing the ExPaNdEd EdItIoNs of some of music's most iconic album covers. But why?
A typical album cover is usually a square-shaped vignette of the artist doing or creating something iconic enough to stick in a listener's brain. Case in point: SZA's SOS, which sees the titular R&B artist sitting on a diving board attached to a yacht in front of a deep, blue sea. It's melancholy and isolating, paralleling the themes on the record, and that's it. Expanding that album cover either gives you more blue ocean—which is already exemplified on the album cover—or, as demonstrated above, a completely different tone with SZA watching people splash around in the sea. What's beyond the bounds of the square? Nothing, and that's the point.
This trend of expanding album covers with AI is pointless, and exemplifies two things. One, it demonstrates music fans overstepping the boundaries of their favorite artists. In other words, fans are positioning themselves as making better/cooler/more interesting art with the album cover their favorite artists spent a ton of energy developing. Two, it shows just how bleak the AI revolution has really gotten—no one is really creating anything new, they're just lazily expanding what already exists.
Want to know more about AI, chatbots, and the future of machine learning? Check out our full coverage of artificial intelligence, or browse our guides to The Best Free AI Art Generators, The Best ChatGPT Alternatives, and Everything We Know About OpenAI's ChatGPT.