Jack Donaghy, a Bond Girl, a South African alien, a Pussycat Doll, and the reigning queen of internet memes all join the new Men in Black movie. Plus why Oz is the most Robert Downey, Jr. character ever. Spoiler alert!

Spider-Man Reboot:
Sony is offering no comment on whether the reports about Rhys Ifans playing the Lizard are true. If people want to make something of the fact that they only said no comment, not flat-out denied it, go right ahead, but I think those are precisely the sort of guessing games Sony wants in anticipation of naming the character in a little while. So I really wouldn't read much into their no comment either way, to be honest. [Hitflix]
Men in Black 3:
Alec Baldwin, Gemma Arterton, and Sharlto Copley are reportedly all in negotiations to join the cast. Alec Baldwin would play the 1960s head of the Men in Black, and Arterton his secretary, while Copley will play "a fast-talking Yoda type alien." It's unclear whether Copley would be a good guy, or the more humorous sidekick to Jemaine Clement's alien villain. I'll admit it - between this and the previous casting of Emma Thompson and Josh Brolin, this all sounds way more interesting than Men in Black 2. [/Film]
G/O Media may get a commission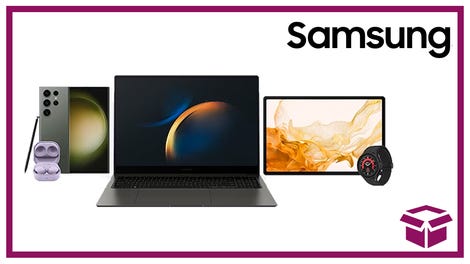 24 hour deals
Discover Samsung - Daily Deal
Depending on your tolerance level for internet memes, this will either be awesome news or just sorta irritating. Betty White — who, internet overexposure or not, is still a legendary comic actress and a welcome presence in pretty much anything — reportedly has a cameo playing one of the character's mothers. Also, Nicole Scherzinger of the Pussycat Dolls has reportedly been offered the role of Devil Girl, which I'm guessing is one of the villainous underlings of Clement's Yaz. [Bloody Disgusting]
Avatar 2:
James Cameron might take some time out before making the next Avatar movie to direct Angelina Jolie in a new Cleopatra movie. Knowing Cameron's working process, that could push Avatar 2 back five or so years. Which is all well and good, but here's the truly important question — what does this mean for Steven Soderbergh's "3-D live-action rock 'n' roll musical about Cleopatra" starring Hugh Jackman, Catherine Zeta-Jones, and the music of Guided by Voices? Inquiring minds want to know! [Deadline]
Star Trek 2:
Roberto Orci confirms that he and Alex Kurtzman have started writing the script. [Trek Movie]
Skyline:
There's another set report with a few more details on the movie. The Strause Brothers say the aliens are a scifi take on the Sirens of Greek mythology, and costar Brittney Daniel explains her character:
She's kind of like the self-absorbed, L.A. socialite girl," she said of her character. "And through the movie she starts to have a comeuppance. She starts to realize that the world doesn't revolve around her. She doesn't save the day, but she definitely takes part … in helping us get out when we need to get out [of the building] and kind of kick a little ass."
For more, including descriptions of some scenes, check out the link. [IGN]
This UK trailer is pretty much identical to the US one, except it has slightly better sound quality and no speaker pops. So...yay? [The Hollywood News]
Oz the Great and Powerful:
I didn't think this was possible, but this movie might just out-Downey the Iron Man films for pure Robert-Downey-Jr.-ness. The film reportedly stars the wizard - who will likely be played by Robert Downey Jr., but it hasn't been confirmed yet - as a fast-talking huckster whose libido constantly gets him into trouble, whether it's with angry husbands or jilted witches. The plot has Oz falling in love with Glinda the Good Witch, which causes Theodora the Morally Ambiguous Witch, whose advances he spurned, to team up with Evanora the Evil Witch to take him down. [Pajiba]
Superior:
Mark Millar says that he's close to completing a couple potential deals to adapt Superior, his reasonably family-friendly tribute to golden age superheroes. (But take this with a grain of salt for now.) Millar says the two different groups he talked to mentioned the same actor for the lead role: Jon Hamm. That doesn't mean much apart from the fact that people recognize Jon Hamm would be great to play a Superman type, but the fact that Millar is already dropping that in may suggest they're going to very actively pursue Hamm for the role. So, for those hoping to see Hamm play the Man of Steel, this might be the project to watch - I'm guessing this is close as he's ever going to get, unfortunately. [Millar's World]
The Last Voyage of the Demeter:
This film, an adaptation of a section from Bram Stoker's Dracula in which the Count is transported to England on the ship the Demeter and the entire crew mysteriously dies in the crossing (hence the title), has reportedly added Ben Kingsley and Swedish Girl with the Dragon Tattoo star Noomi Rapace. Rapace, who is maybe the slightly better indicator this film could be worthwhile (Kingsley appears in a ton of dreck), is reportedly playing a stowaway on the ship. [The LA Times]
Uncharted - Drake's Fortune:
Nathan Fillion has started a Twitter campaign to get the lead role of Nathan Drake in the video game adaption. For those keeping track, if Malcolm Reynolds was Fillion's Han Solo, then this is his Indiana Jones. Of course, that makes Rick Castle Fillion's Rick Deckard - even their first names are the same! - but only because I think Castle would be a lot more entertaining if he spent his time killing replicants and hunting Rutger Hauer while being cryptically taunted by Edward James Olmos. [IGN]
Godzilla:
There were reports yesterday that Guillermo del Toro had been offered the director's chair for a Godzilla reboot, but he denied it in the strongest possible terms - not only has no offer been made, he won't even read the script for such a movie. [Hitflix]
Transformers 3:
Here's a couple more photos of general Bayhem from the DC film shoot: [CinemaBlend]

We updated our report on this yesterday, but just in case people don't read Morning Spoilers multiple times over the course of a day (which you totally should, because you'll start picking up on the subtle metatextual layering I put into every post), the Bumblebee crash is not being written into the film, and Bay is just going to use his spare Bumblebee car. [TFW2005]
Harry Potter and the Deathly Hallows:
A couple more posters are out: [SpoilerTV]

Fringe:
Here's a pair of interviews with John Noble and Blair Brown: [SpoilerTV]
Elsewhere, Noble had some musings on what Walter will do now that he owns Massive Dynamic:
"He's had to reevaluate everything as he came out of that mist in his life. He has realized that the simplest thing, like the love of a parent for a child, is far more important than anything else. I'm not going to be the CEO of this business. He may think, 'I wonder what opportunities this gives me to do good science?' At the end of the day, I suppose something like Massive Dynamic could make a lot less profit and do a lot better science – if Walter has his say."
[Fancast]
A bunch of promo photos are out for the next three episodes, "Amber 31422", "6955 kHZ", and "The Abducted". We've split them into three separate galleries: [<a href="">SpoilerTV]

[gallery 5664403]



Doctor Who:
The opening, Utah-set two-parter has reportedly added a few new characters. Peter Banks is reportedly playing Dr. Shepherd, Canadian actor Kerry Shale is playing a southerner (and we mean a US southerner, not someone from Point Pelee or something), and Kieran O'Connor is playing a guard. All of this thanks to our resident Doctor Who spoiler machine bluehinter!
The Event:
Here's a small sneak peek at the next episode, "Casualties of War": [SpoilerTV] Click to view

No Ordinary Family:
Here's a synopsis and some photos for the November 9 episode guest-starring Cybill Shepherd and Bruce McGill (D-Day from Animal House!) as Stephanie's parents: [KSiteTV]
When Stephanie's hard-to-please parents, Barbara (Cybill Shepherd) and Allan Crane, pay an unexpected visit, the Powells must curb the use of their powers for fear of giving away their secret. But Barbara and Allan begin to suspect that something's awry when they witness some strange behavior. Meanwhile, when friend Trent Stafford (Jackson Rathbone, the "Twilight" movies) and his parents are the victims of a home invasion, Daphne uses her abilities to help Jim try to track down the thugs responsible for the violent act.
This is as much a reflection of the general terribleness of this premiere season as anything else, but No Ordinary Family is pretty much ABC's only moderately successful new show, and it looks like it's sticking around - ABC has ordered four more scripts of the show, which means they will almost certainly order four more episodes too. It's the only new show ABC has done this for, so I'd give this show a decent chance of getting an entire season to figure its problems out. [KSiteTV]
Supernatural:
Here's one more sneak peek for "Weekend at Bobby's": [SpoilerTV]
And now a few photos for episode 5, "Live Free or Twi Hard": [SpoilerTV]

Terra Nova:
This is quickly getting ridiculous. Steven Spielberg's time traveling dinosaur show hasn't even started shooting yet and the pilot reportedly already costs $10 million. Once it finally starts shooting, the final cost for the episode could be $20 million, making it the most expensive pilot in TV history, beating out Lost ($10-14 million) and Boardwalk Empire ($18 million). That's kind of a lot of money for a show starring the dude from the American Life on Mars and a British actress who's largely unknown in Britain, but we'll just have to wait and see, I guess. [TV Squad]
Being Human:
Here's an interview with Sam Witwer, in which he discusses the American remake (and his time playing Doomsday on Smallville): [SpoilerTV]
Click to view

Additional reporting by Katharine Trendacosta and Charlie Jane Anders.