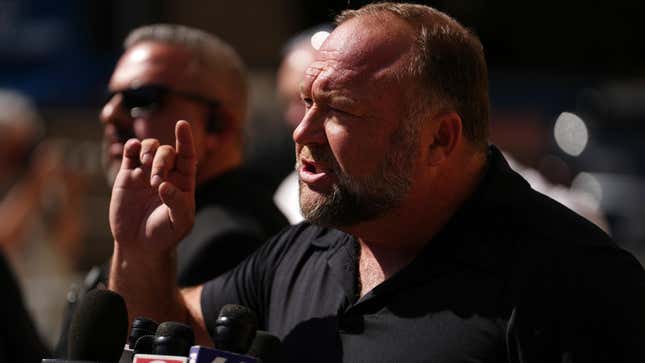 As the Feds try to rip Alex Jones' $2,000 cat from his conspiracy peddling hands, the disgraced right-wing Infowars host has been reportedly concealing funds while paying out the court-ordered $1.5 billion in damages to the families of the 2012 Sandy Hook school shooting.

How Conspiracy Theories and Disinformation Spiral Out of Control on the Internet | TechModo
As first reported in the New York Times, Jones has transferred millions of dollars in real estate, cash, and business deals to family and friends in order to remain under the radar of creditors, according to a Times review of his financial documents. In one specific example, Jones transferred assets to a new company run by his former personal trainer. The Times also revealed that Jones spent $80,000 on a villa, private jet, and bodyguards while testifying in Connecticut in his second of two defamation lawsuits.
"There's a chance we're going to be forced into a situation where we're going to be checking to see how Infowars is doing every month to figure out if our clients are getting paid or not," said Mark Bankston, the Sandy Hook families' Texas lawyer, as quoted in the New York Times.
Earlier this month, Jones allegedly offered to pay $43 million over five years as part of a bankruptcy plan, but this offer was dismissed by both the families and their legal counsel. Now, it's not clear how much of these transferred assets the families will be able to collect. Jones also has a leg up on the families in his repayment ever since he filed for Chapter 11 bankruptcy—Subchapter V, also known as the Small Business Reorganization Act, gives creditors very little say in the restructuring of an organization declaring bankruptcy, like Infowars.
Jones has been the subject of two trials regarding his claims about the Sandy Hook Elementary School shooting, where a perpetrator murdered 26 students and faculty at the Connecticut school in December 2012. Jones repeatedly referred to the mass shooting as a conspiracy and false flag operation on his show Infowars, which the families of the victim's sued over.
The first trial, in Texas this past summer, saw Jones eventually proclaim that the shooting was "100% real" before he was hit with a $45.2 million fine. The second trial, in Connecticut back in September, saw Jones facing $965 million in damages.