The most accurate description of the shrieking pageantry we've come to know as InfoWars is that it's a dietary supplement business hiding behind a debased, unreliable, and exhaustingly stupid news network. Unfortunately for its founder Alex Jones, seen above chugging a glass of "Caveman True Paleo Formula," two of…
Word on the street is that new White House Chief of Staff, John Kelly, has forbidden aides from bringing President Trump any news stories from InfoWars, the conspiracy theory website founded by Alex Jones. InfoWars, the only news site that tells the truth about child slaves who are currently on Mars (seriously), is…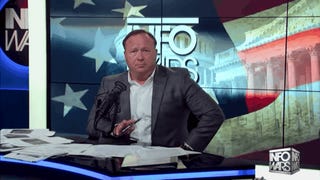 You might know Alex Jones as the guy who peddles conspiracy theories about politics and pizza. Or you might know him as the guy who was successfully sued by yogurt. But it's easy to forget that he also believes some rather interesting things about NASA, the moon, and alien life.

On Tuesday, prosecutors and defense lawyers submitted memoranda ahead of the June 22nd sentencing of Pizzagate gunman Edgar Welch, who pled guilty to weapons charges after firing a rifle inside a DC pizza restaurant last year. With fewer facts to work with, Welch was previously portrayed as either the manifestation of…
This past weekend, President Trump got some heat for a bizarre photo in which he's touching a glowing orb with two other world leaders in a dark room. It inspired a torrent of memes and jokes about Trump controlling the world with his magical orb. But InfoWars, founded by notorious conspiracy theorist Alex Jones,…
Courtrooms are the place where we find Truth. We know that from many fine movies and television shows, such as Law and Order: Criminal Intent and Law and Order: Special Victims Unit. Over the last two weeks, the custody trial of radio provocateur Alex Jones, in Austin, has been cast as an opportunity to find the truth…
Infowars.com, radio host Alex Jones' virtual mecca for conspiracy theorists, preppers, and otherwise non-sheeple alike, is full of bullshit. But the most spectacular of this particular brand of insanity lies in its online store. Where you can buy a chance to save yourself from the New World Order—in bulk.