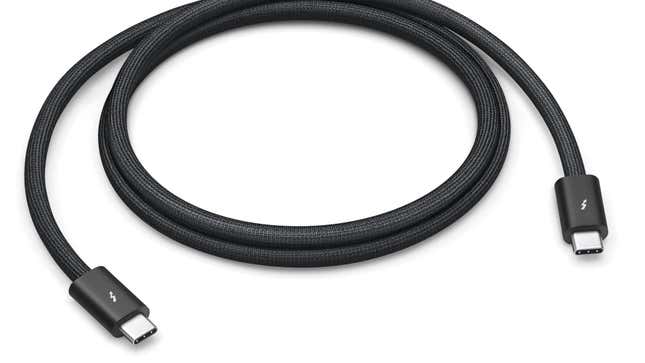 There's a lot to say about the newly announced iPhone 15 lineup, but the one thing that has everybody talking is Apple's switch to the standard USB-C charging port. It's the first time the company has moved away from a proprietary charging port for its wildly lucrative smartphone.
Is This the End of Apple's Lightning Cable?
That doesn't mean the Cupertino company isn't trying to make the most of the switch first announced at Tuesday's Wonderlust event. The Apple Store is stuffed with a new bevy of USB-C cables and adapters, and most of them are pretty damn costly considering the bounty of cheaper, similar products out there for one of the most-used ports in consumer electronics. Take the $29 USB-C to Lightning Adapter. It's a braided cable connecting a female lightning port to a male USB. It's the same price as the USB to Lighting cable, but it's three times as expensive as the Lightning to 3.5mm adapter for audio jacks.
Apple products do usually go for a premium, but the move to USB-C does add an extra layer of price jacking for more common products. The 20W USB-C Wall Adapter sits at $20, while a 1-meter 60W weaved charging cable is going for $20. The 2-meter version goes for $30 and supports adapters that go up to 96W of charging. Both transfer data at USB-2 speeds, though the iPhone 15 Pro and Pro Max should support up to USB-3 speeds. At the top end, however, is the Thunderbolt 4 USB-C Pro cable going for $69. It supports charging up to 100W and USB 3 and USB 4 transfer speeds up to 40 GB/s.
None of this is to say you need anywhere near those speeds for charging (data transfer may be another story, depending on the user). Indeed, Apple seems more aware that users would prefer to preserve their battery, even if they don't max out on charge. As found by 9to5Mac, code hidden inside the iOS 17 RC sent to app developers allows users to limit their max battery charges to less than a full 100%
This feature will be found inside the Battery settings menu and gives users the option to customize at what limit the max charge will end. It also shows when a user last set their phone to the max recharge value. Since it's on iOS 17, it's unclear if this feature will be available to past iPhones as well, but as 9to5Mac pointed out, some users have complained that battery health has degraded faster on the iPhone 14 Pro than the company's past devices.
Charging a lithium-ion battery to 100% makes it degrade faster, so this is indeed a welcome feature for a phone that's now much easier to find a cable for. All the more expensive cables may be useful for some, but most of the folks who simply charge their phone while their asleep would prefer to have a longer battery than anything else.
At the end of the day, there will be people who just feel more comfortable buying direct from Apple and are fine with paying a premium. But now, you're free to look elsewhere for all your charging needs.