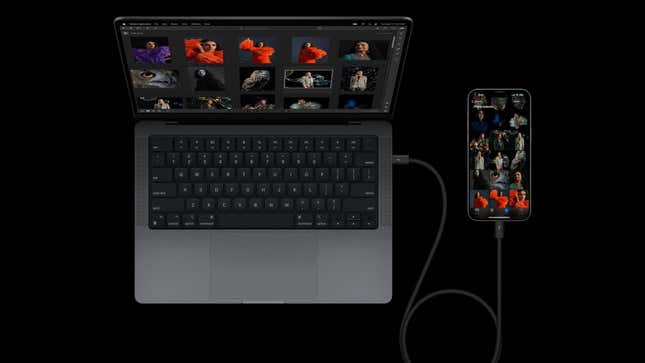 After more than a decade of use, Apple's new iPhone 15 will retire the company's proprietary Lightning connector in favor of the USB-C port. The long-rumored change comes ahead of a December 2024 European Union deadline requiring all new phones sold in the region to ship with a USB-C connector for their charging port. For iPhone users, it's already better late than never. Android phones have charged via USB-C for the better part of a decade.

Is This the End of Apple's Lightning Cable?
Images of the iPhone 15 shown at its event Tuesday show the USB-C connector appearing in the same slot as the Lightning before it. Apple said the industry-favored cord would allow charging, data transfers, and playing audio. It's also capable of achieving USB 3 speeds, which Apple says is up to 20X faster than USB 2.
Moments after revealing the iPhone's switch to USB-C, Apple doubled up and revealed its new AirPods would also utilize USB-C charging as well. Moving forward, users will also be able to charge both their AirPods and Apple Watch devices simply by connecting them to their iPhones.
Why now?
The switch marks the end of an era for a connector type Apple first introduced back in 2012. In the decade since, Apple has loaded Lightning on every incremental iPhone upgrade and created an entire mini-business based on licensing fees for third parties that make accessories that use the connector.
The iPhone was one of Apple's last major products to defy the trend towards USB-C in recent years. Since its introduction in 2014, USB-C has swept over consumer electronics and quickly become a de facto standard, a designation long sought but never quite realized by other charging methods. Apple's MacBooks, iPads, and Watch devices all embraced USB-C prior to the company's flagship device, leading to millions of Apple customers frustratingly keeping track of two seemingly similar but utterly incompatible connectors.
Plenty of iPhone customers have demanded a USB-C standard over the years, a point made painfully clear two years ago when a modified iPhone X equipped with the charging port sold at auction for $86,001. But there's some evidence to suggest the switch to USB-C could even attract some new customers previously on the fence. Around half (44%) of Android users polled in a recent SellCell survey said they would consider switching over to an iPhone 15 if it introduced USB-C charging.
Apple's decision to switch iPhones over to USB-C was likely hastened by a recently passed EU directive making USB-C ports mandatory for mobile phones, tablets, headphones, games consoles, and other electronic devices by Fall, 2024. As part of that standard, European customers will also be given the choice to purchase new devices with or without a charger. That standardization effort was pursued with the goal of reducing the growing glut of e-waste and reducing the number of annoying cables consumers have to sort through. In total, the European Parliament estimates discarded or unused chargers are responsible for around 11,00 metric tons of e-waste annually. And that's just in Europe.
Of course, it wouldn't be Apple if there wasn't an important interoperability caveat to mention. Recent rumors suggest iPhone users looking to charge their devices in the fastest time possible will need to buy a USB-C cable that's gone through the company's Mi-Fi certification. iPhone users can still use a USB-C charger from an Android user, but it may not put out the best performance unless it gets Apple's stamp of approval.
The iPhone isn't the only Apple gadget reportedly eyeing USB-C either. A report earlier this year from credible Apple Analyst Ming-Chi Kuo suggests Apple may ship a version of its second-generation AirPod Pro headphones with a USB-C case. Those could shart shipping in the second and third quarter of 2024. Pretty soon, Apple, the committed odd one out, will be all-in on USB-C.