Summer is upon us, which means there's no TV on, which means it's finally time to dig into those books you've been saving for your weekends, vacation, and whatever other spare moments you have. Unfortunately, there's also a ton of tremendous new fiction and non-fiction books coming out this summer, meaning your pile is about to get much, much bigger. Better start reading!
---
Fiction:
Shadow War by Sean McFate, May 10
In this debut thriller from Sean McFate, a US Army veteran named Tom Locke finds work with Apollo Outcomes, a private security contractor. There, he's dispatched on a mission to Ukraine to rescue an oligarch's family. Little does he know that there's a larger game at stake, and he's at the tip of the spear in a major international game of chess.
G/O Media may get a commission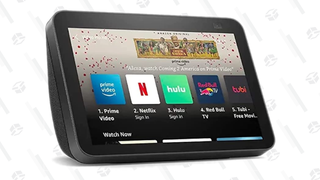 We really appreciated McFate's nonfiction book, The Modern Mercenary when it came out last year. The novel looks to be the best sort of modern day geopolitical thriller, one which relies on McFate's own expertise in world affairs to deliver a kickass story.
---
A plague is sweeping across the world, one that first infects its victims before setting them on fire. As the United States burns, a nurse named Harper decides that she'll hold out as long as possible to give birth to her unborn child, and finds refuge with a commune of other survivors. It's only once she settles that she discovers the dangers might not be from the people hunting the infected, but from within.
We really loved this book, noting that it was " a terrifying, exhilarating ride from beginning to end, and it's quite possibly Hill's best novel to date." The novel is yet another example of how Joe Hill well on his way to become as big a household name as his father.

---
Stiletto by Daniel O'Malley, June 14
The much-anticipated sequel to 2012's hit The Rook, Stilleto returns to the world of the Checquey, the secret government agency tasked with keeping Britains safe from the supernatural. If you're reminded of Charles Stross' The Laundry Files novels, Stiletto is less office politics and Cthulhu and more X-Men and Dungeons & Dragons, as the Chequey battles a variety of monsters and mad scientists with strategic planning as much as their superpowered agents.
Picking up where The Rook left off, Stiletto chronicles the fragile peace between the Chequey and their centuries-long foes the Grafters, whose mastery over flesh gives them their own unique powers. But a mysterious and powerful group is determined to do everything in its power to keep this alliance from forming...
---
Conjoined sisters Taema and Tila dream of escape from an anti-technology cult. As children, they were separated following heart surgery, and escaped into san Francisco. A decade later, Tila is wanted for the first murder of a civilian in decades, and Taema is given an opportunity to redeem her sister: to go undercover in her place to infiltrate the Ratel, a powerful gang that deals with Zeal, a mind-altering drug. As she investigates, she discovers that their pasts and present might be linked.
This is a debut novel that we've been getting excited about, an interesting cyberpunk mystery that meshes together the future of biotechnology and murder.

---
Annie Proulx might not like high-fives, but we're really intrigued by her new novel, Barkskins. Set in the late 17th Century, two Frenchmen, René Sel and Charles Duquet, arrive in North America with the promise of a new life. They each face enormous hardships in the New World, and Proulx follows the descendants of each over the next three centuries as they travel across the world and deal with the consequences and ecological ramifications of their ancestors' decisions.
---
One summer night, Tommy Sanderson vanishes into the middle of a forest. The search drags on for days, leaving his mother, Elizabeth, and his sister, Kate, struggling for answers as the public spotlight turns on them. Questions are met with more questions, and it seems that there was more to the lives of Tommy and his friends than first thought. Even stranger, Tommy seems to be appearing in windows and shadows, as pages of his diary show up unexpectedly in the house.
The New York Times noted that "Tremblay is most interested in the in-between places, in feelings that are indeterminate and perhaps unknowable, like Tommy's teenage sense of neither-here-nor-thereness." I've read this book, and it's just as horrifying as his earlier novel, A Head Full of Ghosts.
---
Set in the present day, the world is full of familiar trappings, save for one thing: the American Civil War never happened. Slavery still exists in "the Hard Four," and a gifted African-American bounty hunter working for the US Marshall Service is sent after a runaway named Jackdaw, only to discover that something isn't right.

As he pursues Jackdaw through underground movements and the American midwest, he comes to discover deeply-held secrets that go to the core of the relationship between the Hard Four and the rest of the United States, secrets that the government will do anything to protect. This looks to be a riveting alternate history thriller.
---
In 1917, farmer Ellsworth Fiddler is swindled out of his family's fortune, which puts him on a surprising path with another farmer named Pearl Jewett. Described as a deeply gothic novel, the book details the violent collision between Fiddler and Jewett. The book has already attracted considerable acclaim: Kirkus Reviews called the book a "darkly comic gorefest by a gifted writer."
---
Science fiction anthologies are a dime a dozen, but there's that one that comes across every now and again that is truly essential. This is the case for Ann and Jeff Vandermeer's Big Book of Science Fiction, an anthology that goes back to the genre's roots in pulp fiction, all the way up to the end of the 20th Century, picking the best stories from around the world (including a number never before translated into English).
We took one look at this massive anthology's Table of Contents, and fell in love at first sight. This looks to be an indispensable collection of the genre's best stories from around the world.
---
Chuck Wendig's novel Aftermath was one of the first adventures in the new Star Wars storyline, helping to fill in the gap between Return of the Jedi and The Force Awakens. In Aftermath: Life Debt, Han Solo heads to Kashyyyk along with his sidekick Chewbacca to help free the planet from Imperial hands. At the same time, Norra Wexley and her Imperial Hunters chase Grand Admiral Rae Sloane across the galaxy in an attempt to bring some of the remaining commanders of the Empire to justice. They're called off the trail with an urgent message: Solo has vanished and Chewbacca been captured.
While the old Expanded Universe has been decanonized, The Force Awakens opened up an entirely new world of possibilities, and this new adventure looks to be just as exciting as the originals.
---
Nightshades by Melissa F. Olson, July 19
In this urban fantasy thriller from Melissa F. Olson, Alex McKenna is a special agent assigned to the Bureau of Paranormal Investigations. The BPI is tasked with investigating vampires (shades) in Chicago, and she's sent along on a case involving missing children.
As BPI agents begin winding up dead, McKenna has to get to the bottom of the disappearances with the help of some unlikely allies. Olson is known for her urban fantasy Scarlett Bernard and Boundary Magic series, and this novella promises some "visceral action" with a new take on the vampire mythos.
---
A writer for a travel magazine, Lo Blacklock, has been given a prime assignment: spend a week on a luxury cruise. It starts off well with happy guests and smooth sailing. However, when the weather turns, the trip takes a dark turn. Lo sees a woman thrown overboard, someone who wasn't on the manifest. It's a mystery in the same vein as The Girl on the Train and Gone Girl, The Woman in Cabin 10 has all the hallmarks of an excellent thriller: suspenseful, intriguing and unsettling.
---
Dark Matter by Blake Crouch, July 26
You might have seen some of Blake Couch's other works: he's the author behind the Wayward Pines trilogy, and his newest novel, Dark Matter, has been picking up buzz for years now. Crouch sold the movie rights for the novel in 2014 before it was even finished, and it's now set to come out later this summer.
In it, Jason Dessen is knocked out and awakens to find himself strapped to a gurney, surrounded by people who he doesn't recognize. The world he's in is one he doesn't recognize: he's married to someone else, and he's no longer a regular college professor, but a brilliant genius. This is a fast-paced thriller that deals with alternate worlds and paths not taken.
---
Supernova by C.A. Higgins, July 26
We really enjoyed Higgins' debut novel, Lightless, and we're excited to see where Higgins picks up the story. Ananke was a top of the line, experimental military spacecraft that was radically transformed after it was infected with a virus.
It's now sentient, and the remaining crew member, Althea, devotes herself completely to the task of teaching the ship about humanity, seeking out Matthew Gale, the escaped terrorist who had a hand in Ananke's awakening. Drawn back to Earth, they find themselves in the midst of a revolution, which puts them on a collision course for a radically new future.

---
The Hike by Drew Magary, August 2
The second novel from Deadspin's own Drew Magary isn't science fiction, but rather fantasy as a normal man named Ben takes a simple hike that somehow stands him in a fantasy world of foul-mouthed crabs, magic potions, and the mysterious being who is preventing him from returning home to his family.
It's often hilarious, as you would expect any book by Magary to be, but like The Postmortal there a real darkness and thoughtfulness to Ben's journey that will keep you engrossed more than most fantasy quests, even as it draws on everything from myths to video games.
---
Orbit Books is responsible for some of the most exciting space adventures out there:, including James S.A. Corey's Expanse series, Kim Stanley Robinson's Aurora, and Ann Leckie's Ancillary trilogy. Their latest offering comes from debut author K.B. Wagers, who spins out a story about Hail Bristol, a smuggler who has made a successful life for herself in the galaxy.
Bristol has a secret that she's brought to abruptly: she's also the heir to the Indranan Empire. This book looks like it's poised to be the next exciting space opera, one with plenty of action, intrigue, and adventure.

---
N.K. Jemisin's novel The Fifth Season took the Fantasy world by a storm when it was released last year (earning Jemisin Nebula and Hugo nominations), and the next installment appears to be just as intriguing as the first. The Obelisk Gate picks up following the devastating conclusion of The Fifth Season, picking up Essun's quest to find her missing daughter, and the apocalyptic end of the world.
The Fifth Season was a masterpiece of fantasy literature, rejecting long-held conventions and tropes, and we're excited to see what Jemisin does next to upend genre.
---
Nonfiction:
Pit Bulls are a popular and controversial breed of dog, one which has a long history with people. In this new book, Bronwen Dicky looks at the history and science behind the breed and how they've coexisted with people over the years.
Whether they've been on the battlefield, a dogfighting ring or in the home, it's a story that's long overdue. It also looks to be a comprehensively complete examination on the topic: the Wall Street Journal noted that "Ms. Dickey has earned her reputation as a first-rate reporter. Here she has interviewed more than 350 people in 15 states, including dog rescuers, trainers, breeders, veterinarians, victims of dog bites, police, and animal behaviorists."
It's one of the world's most important technological innovations: paper. For two millennia, it has utterly transformed human behavior by changing how we communicate, how we tell stories and overthrow governments. The history of paper is the history of society, and Mark Kurlansky's history follows in the footsteps of his other books, Cod and Salt.

Reid Mitenbuler, writing for The Atlantic, noted that Kurlansky took the "seemingly mundane commodity to examine a wider phenomenon: historical attitudes toward disruptive technologies. His question: how do humans absorb and disseminate information? His answer helps reveal the evolution, both politically and economically, of how the world has come to be organized."
---
Siddhartha Mukherjee's book is a history of the human genome, running through centuries of research and experimentation from figures such as Aristotle, Mendel, Darwin, Crick, Watson and Franklin. He weaves together social history, science and personal narratives to explain how we made one of the greatest discovery in the history of humanity, and what it means for our future.
Kirkus Reviews called the book "Sobering, humbling, and extraordinarily rich reading from a wise and gifted writer who sees how far we have come—but how much farther we have to go to understand our human nature and destiny.
---
Junger was known for books such as The Perfect Storm and Fire before he wrote his landmark account of the war in Afghanistan, War (along with a major documentary, Restrepo). His latest, Tribe, is a powerful discussion about the nature of human society, and makes a compelling argument for how our society is failing us when it comes to the reintegration of soldiers returning home from war. A mix of history, anthropology and military history, he lays out an argument for what we can learn from tribal societies and why we're stronger when we come together.
Publisher's Weekly noted that the book ends "with a look at the country's divisive political rhetoric, Junger suggests that the U.S. could cure its ills if we could only focus on the collective good."
---
Mary Roach has written some of our favorite scientific explainers: Whether it's heading to the red planet in Packing for Mars, or dead bodies in Stiff, we're in for a treat whenever she writes a book. Her latest takes us to another arena altogether: war.
In Grunt, Roach has a lot of material to work with: how the stresses of war impact the body of a soldier while she examines the minutia of military life, from hearing loss to uniform design to food, she takes a deep dive into why the military does some unconventional things.

---
When Anu Partanen moved to the United States in 2008, she found that it was pretty different from her home country of Finland. She found that her world became far more complicated rife with anxiety. To understand the what was happening, she began to look at the differences between the two countries, examining four broad groups: parents and children, men and women, employees and employers, and government and citizens. The book has a number of things that America can learn from Finland that can make our country and society safer and freer.
---
The era of big fire is upon us, and it's something to get used to. As forest fires become part of everyday life each summer, it's worth seeing what the cost is to the men and women who are on the front lines. Jason Ramos was one of the elites: a smoke jumper for the Bureau of Land Management. Highly trained and experienced he and his comrades would jump into harms way to tackle some of the most difficult fires imaginable. In this memoir, he describes his training, the history of the service, and why it's more important than ever.
---
The Fire Line is another book worth picking up about our future of wildfires. This book goes into the story behind the Granite Mountain Hotshots, a team of firefighters that perished in the line of duty in 2013.
---
Throughout history, we've been attracted to dolphins for their intelligence and social behavior. Despite that, scientists still don't fully understand how their brains work, and how that informs their behavior.
Inspired by an encounter with the creatures, Susan Casey went out in search of answers, traveling the world to understand some of the figures in the marine research community and our complicated relationship with them. She examines everything from research to illegal trade to discover the nature of our coexistence with some of the ocean's most compelling inhabitants.
---
We've recently been learning more about the importance of microbes in the human body, and Ed Yong's upcoming book, I Contain Multitudes: The Microbes Within Us and a Grander View of Life looks at the complicated relationship we have with the life inside of us. Delving into the natural history of the science behind microbes and what the research might yield.
Kirkus Reviews gave the book a Starred Review, noting that it "excels at objectively navigating the large body of research related to the microbiome without overselling its curative potential or sacrificing any of the deliciously icky details, and he delivers some of the finest science writing out there in language that will appeal to a wide audience."
---
We all know some of the heroes of the Space age: Neil Armstrong, who landed on the moon, and Gene Kranz, who brought home Apollo 13. There's little attention, however, on some of the behind-the-scenes efforts that got us into space. In her book, Margot Lee Shetterly delves into the history of a group of brilliant African-American women who found their mathematical skills in high demand for the coming space race.
While this historical book isn't even out yet, it's already the basis for an upcoming movie directed by Theodore Melfi and starring Taraji P. Henson (Person of Interest) and Mahershala Ali (House of Cards).