New York Toy Fair has come and gone, leaving us with even more fancy bits of plastic to get excited over in the coming months. Missed out on our coverage? Here's everything Gizmodo and io9 saw from the show this year!

Actual, Real-Life Rocket League
Okay sure, you don't have the power-ups and can't drive up walls or boost yourself into the air like a four-wheeled Superman, but Hot Wheels' translation of the hit video game Rocket League proved to be a ton of fun when we got our hands on it—even if it couldn't completely emulate the wild fun of the game. Each car will last around 15 minutes on a 20-minute charge, though, so you'll have to prepare your car-football matches tightly to ensure you don't putter out of batteries in the middle of a crucial maneuver.
The Coolest New Toys from Solo: A Star Wars Story and Beyond
G/O Media may get a commission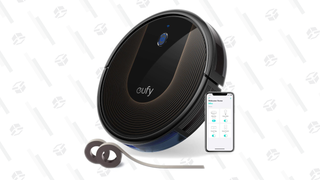 48% Off
Eufy BoostIQ RoboVac
Star Wars toys are a staple of Toy Fair, and with Solo so close to release, this year was no exception. But we got more than just new looks at the toys of the stars and vehicles being released for the film. All areas of the Star Wars saga got the toy love from Hasbro, with new Black Series figures for everyone from Admiral Holdo to Zuckuss on the way, another look at the long-anticipated return of the fan favorite "Vintage Collection" figures, and even a light-up replica of a First Order stun baton for all your hot TR-8R cosplays.

A Brick-Busting Lego Hulkbuster
Despite the fact that it's releasing even sooner than Solo, toys for Avengers: Infinity War were mysteriously absent from Toy Fair this year. That didn't stop Lego from wowing us with a giant new version of the Hulkbuster armor as seen in Avengers: Age of Ultron though. The new kit, multiple times the size of the first time Lego tried to do a Hulkbuster set for Ultron's release, includes a fully articulated version of the anti-Hulk armor, light-up and glow-in-the-dark elements over the suit, and even a swanky platform to pose it on, complete with robot arms to make it feel like it's right out of Tony Stark's hall of armors.

Delightfully Violent Robots
Hexbug's VEX Battling Boxing Robots were one of the most fun new things at Toy Fair, because violent, robot-on-robot combat is always entertaining when it comes in toy form. The buildable robot fighters combine phone-controlled fisticuffs and self-balancing tech to do battle until you deplete your opposing robot's health bar and send their heads flying off like you have both rocked and socked them. Look at that victory celebration in the gif above. So adorable!
The Return of Harry Potter Lego, and some Magical Wands
Back while the Potter movies were coming out, Lego produced a huge line of sets based on the Wizarding world, which eventually wrapped up in 2011. Now they're back, and they're back in style, kicking off with a $100 recreation of Hogwarts' Great Hall that comes with 10 minifigures, including Harry and his friends as well as Hagrid. And that's just the beginning. The set will herald a completely new line of Lego playsets based not just on the Harry Potter saga, but the Fantastic Beasts films as well.

That wasn't the only Potter magic at Toy Fair, though. JAKKS Pacific is launching a line of motion-sensitive wands that not only ask you to wave specific motions to cast a plethora of spells from the movies but lets you engage in duels with fellow wand-wielders. Think laser tag, but... you know, magical.
So Much Marvel, Including a Very Happy Ant-Man
Despite the fact that Infinity War sat out on the fun, there was so much more Marvel magic from Hasbro's figure lines that it wasn't missed. Whether it was oodles of new comics-based figures—including Spider-Ham!—or cool roleplaying toys, like a massive, wearable Infinity Gauntlet, there was plenty to see. But there were even some great new figures based on the MCU itself, whether it was the new line of 10th anniversary throwbacks, or our first look at the figures from Ant-Man & The Wasp, including a hilarious Paul Rudd. Seriously, look at this face:

Wow.
Crayola's Crayon Melting New Pen
Crayola's new pen sounds like every parent's nightmare, but a ton of fun for kids. Thought cleaning crayon scribbles off the wall was annoying? It'll be even harder when kids use this gadget—which literally melts their crayons into waxy ink—to write and draw whatever they want on any surface they can get their hands on. Be prepared.

Gloriously Retro Transformers Figures With a Twist
Hasbro revealed plans for a new cartoon series, Transformers: Cyberverse, for later this year at Toy Fair—but while the show is new, its robot designs and toys have a bit of a familiar look. A more than familiar one, even, given that they're heavily inspired by the classic "G1" designs of the original Transformers toys. Optimus and friends (and, err, enemies, considering there's Megatron and the Decepticons) look like a really cool blend between the old-school aesthetic and modern, cartoony designs, making for some really neat looking figures.

Some Very Weird Mixes of Jurassic World and... Wheels?
Jurassic World: Fallen Kingdom is one of the biggest movies coming in 2018, so it makes sense Toy Fair was packed with new merch based on the sequel. But there was a slightly weird theme to some of the releases. What if you combine dinosaurs, which are good, with wheels, which are... also good?

You get either Mattel's new Car-Dino hybrid Hot Wheels toys, an unholy merging of two great things into one weird looking matchbox car line—or you get something even crazier: Power Wheels' $260 "Dino Racer," which is basically a dirt bike but it's shaped like Blue the Velociraptor from the film.
Hasbro's New Crowdfunding Platform, Complete With Giant Star Wars Toy
One of the weirdest announcements from the show came from Hasbro, who launched "Haslab," a new crowdfunding way to get elaborate toys based on its many brands—those that would never make it to the wide market of toy store shelves—into the hands of the most diehard collectors around. And of course, who's more diehard than Star Wars toy fans? The project kicked off with a pitch to release a massive version of Jabba's sail barge from Return of the Jedi, in scale with the 3.75" Star Wars action figures, that is basically the size of a small child.
It's wild, but it'll only get made if 5,000 preorders at $500 apiece are made before the cutoff date of April 13. Otherwise, this ginormous toy will never see the light of day, and Haslab will move on to another, hopefully equally wild, pitch.