The San Francisco housing market is notoriously insane right now. However, maybe don't try to get around it by squatting in a conveniently vacant $12.5 million mansion abandoned by a bankrupt tech bro, and helping yourself to hundreds of thousands of dollars worth of artwork left hanging on its walls.
That strategy didn't work for 39-year-old Jeremiah Kaylor, who was busted this weekend for doing exactly that over the past two months. Though the exact address of the Presidio Heights dwelling wasn't revealed, real estate blog Curbed SF speculates that it's a "grand but dilapidated" manse dubbed "Le Petite Trianon" (modeled after the real one in Versailles), originally listed for sale at $25 million back in 2012. It's been vacant, with a steadily declining asking price, for years.
It's not yet clear how Kaylor came up with his bold art-theft scheme, but we do know how he got nabbed. According to SF Gate, cops were called to the property late Saturday night in response to a "suspicious person" report. Kaylor insisted he was buying the home, and had legal documents (soon determined to be fake) to prove it.
[Officer Carlos] Manfredi said that Kaylor didn't appear to have a criminal history in California and it was unclear whether this was a single incident or if he had a habit of inhabiting, and stealing from, high-priced homes while they're on the market.

"For a person to generate legal documents, you've got to be a little more sophisticated than your average squatter," Manfredi said.

The officers tried to contact the home's owner and the real estate agent responsible for the home, but given that it was close to midnight on a Saturday, Manfredi said, were unable to do so.
The plot thickened the next day, when the listing agent for the mansion performed a "citizens arrest" while summoning the police. He was soon arrested for real, and charged with 10 counts of burglary. Just in the nick of time, too, the SF Gate report continues:
As police got there, for the second time in as many days, Kaylor had a painting next to a moving van outside of the home and the agent informed the officers that 11 paintings were missing from inside the home, Manfredi said. They were valued at well over $300,000, he said.
G/O Media may get a commission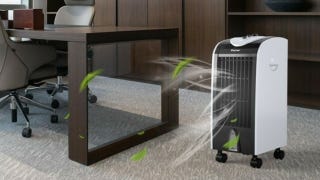 Save $10
Evaporative Portable Air Conditioner Cooler with Filter Knob
ABC News notes that the paintings were sold to pawn shops and via social media for less than their appraised value, and all but two were quickly recovered. The outlet also called the mansion "unkempt" and said that police say it's unclear who actually owns the stolen artwork. Curbed SF and Business Insider both name the property owner as CNET founder Halsey Minor, of whom Business Insider says:
In 2001, Minor's net worth was $180 million. He sold CNET to CBS for $1.8 billion in 2008. By 2013, however, he was filing for bankruptcy, most likely due to his expensive taste in real estate, art, and horses. In 2014, he founded Bitreserve, an online bitcoin exchange.
Update:
In a follow-up post, SF Gate reported that Kaylor admitted in a jailhouse interview to stealing the paintings, though he pled not guilty to the five felony charges brought against him (burglary, two counts of grand theft and two counts of possessing stolen property) on October 20. The house's address was also confirmed to be 3800 Washington Street—which Kaylor referred to as his "thug mansion," and believes he has legal claim to.
Image of alleged crime scene 3800 Washington Street via Google Street View.