So I decided to bite the bullet and try out the Russian music download service AllofMP3.com this morning, and so far I'm fairly impressed, but not quite enough to recommend it to everyone...yet.
The signup took forever, not because they wanted a lot of personal information, but simply because the confirmation email took what seemed to be a long time to get to me—around 20 minutes. Eventually, though, I got signed up and selected an album to download, only to be informed I needed to join their 'V.I.P. Service.' At first, I thought this was sort of shady, but in actuality all V.I.P. service entails is 'charging' up your account with some money before they bother doing the live encodes for you. I was a little sketched about giving a borderline-legal Russian music service my credit card, but conveniently they take Paypal, so $10 later I had 1GB of download credit to play with.
The first download was a Greatest Hits album that was 79 minutes over 14 tracks, which I selected to encode at 192Kb/ps AAC, since that's a nice format for me to keep file sizes small but still play on my iPod (there's also WMA, OGG, and MP3 of various encoding settings, if that's your preference. Even lossless.) I originally told AllofMP3 to send me an email when the encoding was done, mistakenly thinking they'd just send one for the whole album, but as soon as I could open up my Gmail account there were already 14 emails waiting inside, indicating that the encoding was already done. I highly doubt AllofMP3 actually encoded the files in that amount of time—they likely just buffer commonly or previously encoded versions of songs and copy them over into your download queue—although it might be possible, considering they're ripping from disc images and not the discs themselves (I'm presuming, but they basically state that on the site).
When it's time to download via the web, there's no handy 'download all tracks' button. Instead you are forced to select each file individually and download them as you would any other file from your browser, which can be a pain. Fortunately, if you're using Windows, there is 'AllofMP3 Explorer,' an application they provide to automate the download process (its UI is like a simple P2P app, basically). After I set that up (5 minutes of fiddling, maybe), AllofMP3 became much more appealing again. A lack of an OSX client, though, made downloading the 51 songs from a three-disc set on our Mac (I was being thorough and testing on both machines) a real pain.
It's not without its flaws, though. The Greatest Hits album I downloaded had a file go missing, and while ordering another copy of it would only cost me 16 cents, it's the sort of thing that will turn me off to the service if it continues to happen, even occasionally. I did post a request to their customer service about it, more to see if they respond than anything else, but as of yet I haven't heard back (it's only been an hour, though).
G/O Media may get a commission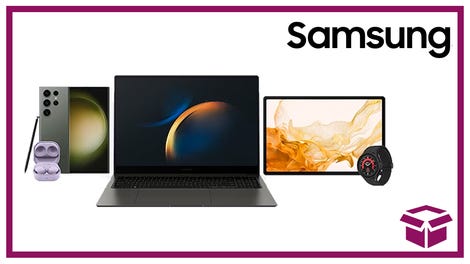 24 hour deals
Discover Samsung - Daily Deal
AllofMP3 needs a lot of work. First, their web interface, while very capable, could really use some workflow tweaking from someone how speaks a little better English. It was overly confusing to know what I needed to do to get started buying music on the service. Song selection is decent, with around 200,000 individual songs from 4755 artists—still a far cry from iTunes Music Store's 700,000 songs. Plus, as an iTunes user (on Windows and Mac), it's just not quite as convenient to listen to the sample music and add things to my library as it is with iTMS, although don't get me wrong—getting two short albums for about the price of a single song on iTunes more than makes up for the inconvenience.
It's interesting how the cheap price changes your consideration of what music to purchase, though. I listened to a (full-length, low-quality mono) sample song from an indie artist, decided I wasn't that impressed, but went ahead and bought the album anyway because it only cost me $.53. I've said for the longest time that I would start buying music when its price fell in line with my spendthrift nature. AllofMP3 makes it so cheap I almost feel compelled to go repurchase all the music I downloaded in the past (almost).
If you don't mind some occasional stutters like lost songs and an interface that needs some polish, give it a shot. If you want complete, painless integration with iTunes (or Winamp, or whatever library manager you use), it's not quite there, so you might want to wait until AllofMP3 works some of the kinks out.
Of course, at these prices, it might not last long.
Read [AllofMP3]
• Related
Read - iTunes Improves as Russians Sell By The Pound [Gizmodo]
Update: Reader Andrew G. sent this tip for OSX users:

To download songs more easily on a Mac, in four steps:

1) click the link "My Downloads" and then "List of all links".

2) Copy the links.

3) Paste into a download manager like Speed Download (make sure you
use 1 connection / download), which will queue all your downloads.


4) Wait for downloads to complete.