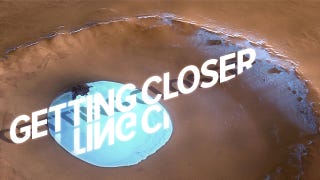 Amazing news from Mars: Curiosity has found that each cubic foot of the planet's soil contains two pints of liquid water. One liter, people_._ It's not a sea or a lake—the water molecules are actually bound to the soil itself—but that's really amazing news, and a good omen in the search for life in the Red Planet.
Talking to Gizmodo, one of the researchers said that "this doesn't have a very big bearing on the life on Mars discussion [...] our next step is to drill into rocks that may have been better places to preserve evidence or organics and of wet environments that could be suitable for life."
Kudos to NASA. Here's hoping that they find signs of life soon.