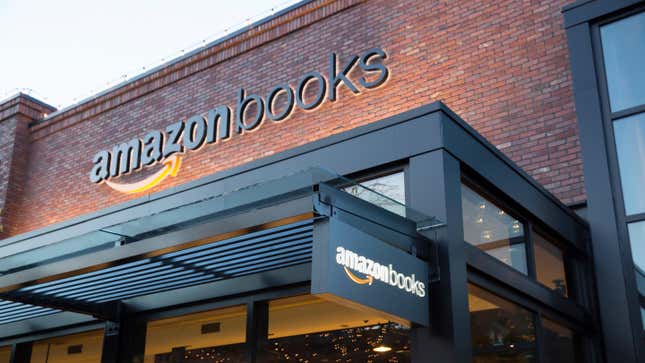 Amazon has removed half a dozen AI-generated books published under a living author's name without her consent following a social media backlash. Though the misleading content was finally removed on Tuesday, the author, veteran publishing industry writer Jane Friedman, worries that a lack of clear, coherent policies at Amazon and other companies leaves the door open for other authors to face similar disputes in the future.

Top 5 Shopping Tips for Amazon Prime Day
"I anticipated that Amazon would not take them down by me simply asking, I knew it would take a publicity nightmare," Friedman said in an interview with Gizmodo. "Happily for me, that occurred. But it goes to show the larger issue is this could happen to anyone."
"If you simply have a name that people can profit from and they decide to publish some garbage and put your name on it, there are no guardrails," the author added.
Friedman told Gizmodo she learned about the AI-written imposter works after one of her readers stumbled across them on Amazon and reached out to her directly. At first, the reader thought the bizarre language may have been Friedman's attempt to experiment with a new writing style. Eventually, the reader realized the differences were likely more than mere stylistic departures. They emailed Friedman expressing concern the works were written by someone else entirely.
"People were discovering them," Friedman said. "I don't know how many people actually bought them, but I have to assume at least a handful."
Those concerns were enough for Friedman to write about the situation in a recent issue of her newsletter and an accompanying tweet. At the time, the author said she had discovered around half a dozen books being sold with her name on them on the platform. Worse still, Friedman said phony books were being added to her official Goodreads page, the book review site owned by Amazon where many readers go to discover works by writers. Goodreads has also removed the titles, according to a company spokesperson.
Friedman says she filed an infringement report through Amazon's official form as soon as she discovered the books and received an automated response. After informing Amazon that someone else was trading on her name, Friedman says the company asked her for trademark registration numbers, something she said most authors simply do not have. Amazon initially closed the case and told her the content would not be removed since she did not own the copyright to the AI works, only for an Amazon representative to reach out to Friedman hours later to say they were reviewing the case further.
All this time, public outcry over the case from other authors and observers mounted on Twitter. Finally, on Tuesday morning, Amazon reversed its decision and removed the titles from its platform. A company spokesperson sent Gizmodo a statement explaining its decision.
"We have clear content guidelines governing which books can be listed for sale and promptly investigate any book when a concern is raised," Amazon spokesperson Ashley Vanicek told Gizmodo. "We welcome author feedback and work directly with authors to address any issues they raise and where we have made an error, we correct it. We invest heavily to provide a trustworthy shopping experience and protect customers and authors from misuse of our service."

Amazon declined to comment further when asked to elaborate on what particular rule or policy was violated that led to the AI-generated content being removed. Friedman said she's confident the growing backlash on social media contributed to the ecommerce giant's reversal. That's good news for her, but will come as little solace to other, smaller writers who lack her same level of prominence.

"I do think it was the public outcry," the author said. "Obviously you shouldn't have to raise a shitstorm in order to get them to do the right thing."
The Authors Guild, one of the oldest active organizations representing the interests of writers and publishers, told Friedman they would try to work through backchannels to have the content removed. In a statement sent to Gizmodo, the Authors Guild said it can be difficult to quickly get problems like these solved through Amazon's normal channels if there's not a blatant copyright infringement. The Guild explained it has worked with Amazon in the past to resolve these issues but noted the uncertain world of AI-generated materials may make that process even murkier.
"Misappropriating authors' names to sell scam books through Kindle and Goodreads is not new, but has gotten worse with the advent of AI-generated content," The Author's Guild said. "Amazon needs to make it easier for authors to get issues resolved."
Ironically, Friedman told Gizmodo she isn't even diametrically opposed to AI models scanning writer's content as a rule as some other authors are. The issue, she said, is when platforms and companies fail to put in place basic rules or protections to prevent hucksters from abusing the tools.
"These companies need to take these problems seriously," Friedman said. "It's not about shutting down AI globally, it's about living with it in a way that respects human creators and that helps protect them from what some of these bad actors are going to do with the technology.