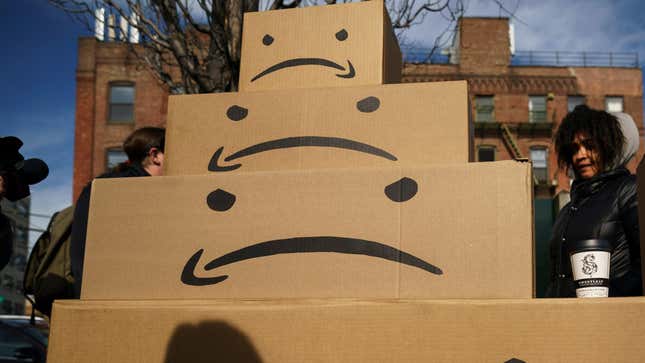 The company known for squeezing every last drop out of its customers and workers is coming back for more. Amazon announced that it's raising its minimum amount for free shipping for non-Prime members from $25 to $35.
Prime Day Ain't That 'Green'
For the uninitiated, users could receive free shipping if their cart was over $25 when filled with specially marked Amazon products. These need not be Amazon Basics products, any product is fair game for free shipping. Now, Amazon is jacking up that price a whole $10, forcing you to spend more, pay for shipping, or bite the bullet and subscribe to Prime. The price bump was first spotted by the e-commerce newsletter Ecommercebytes, which reports that Amazon is randomly testing this in regions grouped by zip code.
"We continually evaluate our offerings and make adjustments based on those assessments," Amazon spokesperson Kristina Pressentin told Gizmodo in an email. "Prime members continue to enjoy free delivery on over 300 million items, with tens of millions of items available for free same or one-day delivery."
The massive shopping platform has recalibrated its free shipping minimum in the past. In 2016, Amazon raised the free shipping minimum from $35 to a big $49, according to GeekWire, but dropped the minimum back to $35 a year later in February 2017. In May of that year, Amazon reduced the free shipping minimum once again to $25 in a bid to compete with Walmart, and it has remained at that price ever since.
This is not the only recent example of Amazon switching up its shipping policy. The platform previously targeted third-party sellers who ship their own products with a shipping fee of 2% added to each product sold beginning on October 1. The move is a way for Amazon to force sellers into using its own in-house shipping logistics, which the FTC is planning on targeting in an upcoming antitrust filing.