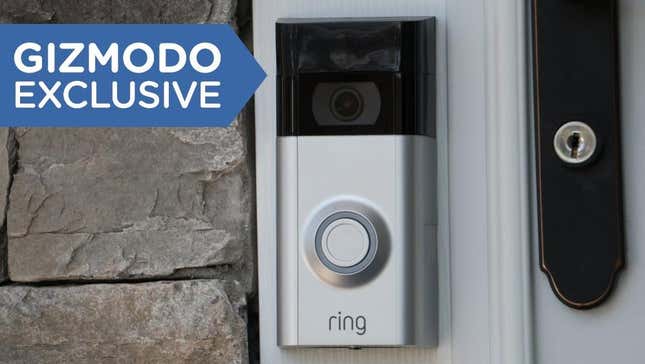 A customer service agent for Ring, Amazon's home-surveillance company, told a concerned user that a Politico article about the company's privacy problems was a "hoax" perpetrated by one of its competitors.

Should Facial Recognition Technology be Banned? | Future Tech
"Always remember that your privacy is a priority," the company representative said in an email responding to the user's question about the article. "It was indeed a 'Hoax' for Ring company [sic] provided by our competitors."
The Politico article detailed how Ring handed police a full day's worth of videos captured by a man's Ring cameras against his will. The law enforcement request included footage of the inside of his house, but it wasn't available. Police were investigating one of the man's neighbors, and he had already provided video showing the street outside his home, but law enforcement used the courts to access more footage.
An Amazon spokesperson told Gizmodo that the company doesn't think the story was a hoax. "I can confirm this was a misunderstanding on the part of the customer support agent, and does not reflect Ring's position," said Emma Daniels. "We will ensure the agent receives the appropriate coaching."
Politico did not immediately respond to a request for comment.
Ring has a long and troubled history of cozying up with law enforcement, even when doing so contravenes users' privacy concerns. Ring stores users' home video footage for up to 180 days, and many people don't realize their purchase of home security products helps to grow one of the country's largest surveillance operations. Ring partners with almost 2,350 law enforcement agencies in its "Neighbors" network.
Unlike a lot of other players in the tech space, Ring treats its relationship with police as an asset, not a liability. The company has actively pitched itself as a resource to police, and has partnered with law enforcement to distribute its cameras throughout local communities. Ring has worked to keep these partnerships quiet, carefully scripting how police describe its products, and in some cases telling cops not to use the word "surveillance."
Privacy regulations at the federal level are close to nonexistent. The few state privacy laws on the books include exceptions for law enforcement, and most proposed nationwide privacy bills include the same carveout. The US is on the path to cementing a legal framework where people have little to no control over footage of their homes, even recordings captured inside their homes by products they "own," that can reveal details about the most intimate parts of their lives.
Ring, like many tech companies, publishes transparency reports about its work with law enforcement. In the second half of 2022 alone, Ring says it received 4,275 requests from courts and law enforcement. Not all of those requests asked for data, but when they did, the company says it provided "content information" 41% of the time, totaling 1,015 data handovers.
The law compels companies to cooperate with court orders and warrants from police and law enforcement, but they're allowed to push back when requests are too broad.

"Ring does not disclose customer information in response to government demands unless required to do so to comply with a legally valid and binding order," Ring's policies say. "Ring objects to overbroad or otherwise inappropriate requests as a matter of course."
Gizmodo stopped reviewing Ring products in 2019 due to privacy concerns. Gizmodo's consumer product review team says these issues are so significant that you should not buy Ring products.