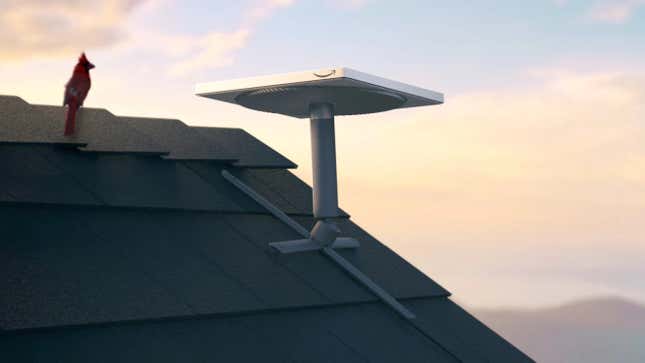 Amazon has finally unveiled the customer terminals for Project Kuiper, the company's attempt to bring a satellite broadband connection to anyone who can't otherwise access high speed internet. The terminals are essentially flat dishes that look incredibly similar to those from Project Kuiper's main competitor, Starlink from SpaceX.
Astronomers Could Soon Get Warnings When SpaceX Satellites Threaten Their View
Amazon said in a press release that users can install one of the three antenna options in order to connect with Project Kuiper satellites—none of which have been launched yet. The terminals, satellites, and ground terminals will all be powered by an Amazon-designed chip called "Prometheus" that will allow each satellite to process 1 terabit per second of data. The three terminal designs include:
An 11 inch (28 centimeter) square design for homes and small businesses that will deliver speeds of up to 400 megabits per second for less than $400.
A 7 inch by 7 inch (18 centimeter by 18 centimeter) compact design that is Project Kuiper's "most affordable customer terminal," according to Amazon's press release, and also offers speeds up to 100 megabits per second.
A 19 inch by 30 inch (48 centimeter by 76 centimeter) design that will serve government, telecommunications, and enterprise applications and reach speeds of 1 gigabit per second. Pricing for this model has not been made known.
"Our goal with Project Kuiper is not just to connect unserved and underserved communities, but also to delight them with the quality, reliability, and value of their service," said Project Kuiper VP of technology Rajeev Badyal in the press release. "From day one, every technology and business decision we've made has centered on what will deliver the best experience for different customers around the world, and our range of customer terminals reflects those choices."
Amazon has yet to launch any satellites into LEO for Project Kuiper, with the first two prototype satellites scheduled for launch in "early 2023" on board a United Launch Alliance Vulcan Centaur rocket, according to the company. Last month, Project Kuiper received FCC approval to deploy over 3,000 satellites, which includes the stipulation that Amazon must retire satellites in the fleet at the end of their seven-year-long missions.
G/O Media may get a commission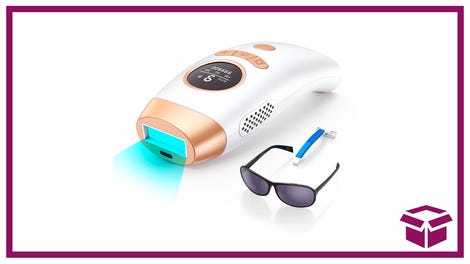 58% Off + Coupon
IPL Hair Removal Device
As a whole, Project Kuiper is currently looking to launch these satellites across a scheduled 83 launches over the next five years. In April, Amazon signed agreements with Arianespace, Blue Origin, and United Launch Alliance to meet that goal. These agreements conveniently left out SpaceX, one of the main competitors of Project Kuiper (and Blue Origin, which was founded by Amazon founder Jeff Bezos). However, just a few months later, Amazon changed its tune, and senior vice president Dave Limp voiced the potential that Amazon may coordinate with SpaceX on launches in order to meet the lofty timeline.