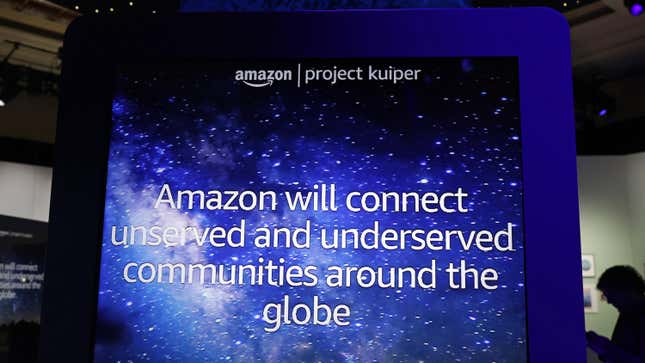 The Federal Communications Commission has granted approval to Amazon subsidiary Kuiper Systems to deploy its constellation of 3,236 broadband satellites. The approval comes with the caveat that Amazon must retire satellites seven years after deployment and report satellite launches to the FCC on a regular basis.

Astronomers Could Soon Get Warnings When SpaceX Satellites Threaten Their View
The FCC approval, issued on February 8, grants Amazon's Project Kuiper permission to begin deploying broadband satellites under certain conditions outlined by the regulator. The FCC identifies Project Kuiper satellites as collision risks should control be lost or the units experience internal failures. Accordingly, Project Kuiper must provide semi-annual reporting on the number of satellites it launches as well as the rate at which it retires old satellites, in what is the regulator's attempt to prevent crashes with other spacecraft in low Earth orbit.
The approval also requires Project Kuiper to retire satellites in the constellation at the end of their seven year missions. This requirement is bolstered by the FCC's 5-year rule, which was adopted in September 2022 in an effort to reduce space debris. The 5-year rule requires satellites to be deorbited no more than five years after the end of their mission—a much shorter time frame compared to the previous 25 years.
"Kuiper identifies the ISS in its post-mission disposal plans, but given the ongoing and persistent operations of inhabitable space stations generally, such as the Tiangong space station, we condition the authorization to require that such space stations be taken into account, i.e., Kuiper must ensure that sufficient propellant is available for its satellites to continue to maintain collision avoidance capabilities and utilize other remaining fuel to lower the apogee below any inhabitable space stations," the approval reads.
To remove satellites from orbit, Project Kuiper plans to lower the satellite's perigee to an altitude of 218 miles (350 kilometers), where the denser atmosphere will cause the spacecraft to decay from orbit in one year. Any remaining propellant will be used to lower the satellite's apogee to that of less than the ISS—or any other space stations, per the FCC's new conditions. Removing satellites from orbit at the end of their life will help reduce the probability of collisions with other spacecraft in low Earth orbit.
Amazon got initial approval from the FCC in 2020 to deploy non-geostationary satellites as part of Project Kuiper, with plans to launch a total of 3,236 satellites that will operate in three shells, in order to provide broadband internet around the globe to prop the company as a competitor to SpaceX's Starlink and British communication company OneWeb's constellation.
In December, the FCC granted SpaceX approval to launch 7,500 of its desired 29,988 Starlink satellites, saying it didn't approve the total amount in order to "protect other satellite and terrestrial operators from harmful interference and maintain a safe space environment, promoting competition and protecting spectrum and orbital resources for future use.
The FCC's license specifies that Amazon must launch half of Project Kuiper's must be launched by 2026, with the entire constellation launched by 2029. Amazon did not immediately return Gizmodo's request for comment on specific launch dates for Project Kuiper, but previous reporting indicates that Amazon booked 83 launches for Project Kuiper via Arianespace, Blue Origin, and United Launch Alliance over the next five years.
More: NASA Hatches New Plan for Troubled Water-Hunting Lunar Probe