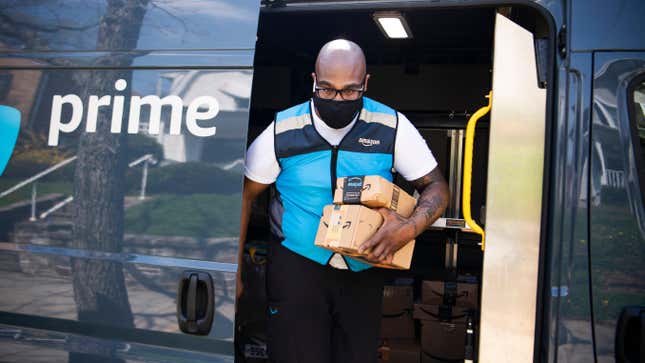 Amazon has a lot of rules for its delivery drivers: clipped nails, no body odor, clean ears, etc... These strict requirements govern everything from personal grooming to online activity (couriers wearing the Amazon uniform are barred from posting anything obscene). The company also sets its drivers' wage minimums, delivery schedules, routes, and metes out discipline.

It's so much micromanaging that it's almost hard to believe that none of these workers are actually employed by Amazon. Instead, the e-tail company contracts dozens of logistics and transport companies nationwide to cobble together its Delivery Service Partner program that brings packages from warehouses to peoples' doors.
It's through that quirk of business bureaucracy that a group of Amazon drivers in Palmdale, California have managed to unionize—even while shuttling cargo for the notoriously and aggressively anti-union tech behemoth. The team of 84 workers, technically employed by Battle-Tested Strategies, which is contracted by Amazon, have unionized with the Teamsters. Moreover, Battle-Tested voluntarily recognized the union and negotiated a tentative contract agreement with its employees last week, as announced Monday in a press statement from the International Brotherhood of Teamsters.
The new union is a historic one, that moves the labor rights fight at Amazon out of just the warehouses and into the streets. "Amazon workers are joining the Teamsters to demand more from this company, including good wages, safe working conditions, and respect," Randy Korgan, the Teamsters Amazon Division Director.
Driving for Amazon is an infamously shitty gig in many respects. The high pressure quotas mean that drivers often forsake meal and bathroom breaks to meet company demands—even resorting to peeing in bottles. In-van cameras and AI systems track drivers' every movements, including face scratches and extremely minor speed fluctuations in what amounts to constant surveillance. The company has threatened to fire couriers who wanted to stop driving and hunker down during an active tornado warning. But for the newly unionized Palmdale, CA cohort, things could soon improve.
"We just want fair pay and safe jobs," Rajpal Singh, one of the 84 drivers, told WaPo. "I hope other drivers join in [because] what we deserve is not what we're getting." An informal survey from 2021 found that unionization is, indeed, a popular concept among Amazon drivers, and perhaps the Battle-Tested team will lead a new trend.

The tentative contract, which workers are set to vote on and ratify in the coming weeks, gives the California cohort of Amazon drivers an immediate wage bump and an increase in their schedule of future raises. It also addresses a suite of worker safety concerns surrounding vehicle conditions and heat, according to a report from the Washington Post. Though Battle-Tested technically employs the drivers, the contract will force changes on Amazon's end as well—if the company abides by it.
The Teamsters news release says the group of 84 Palmdale workers are first Amazon drivers in the country to organize, but that's not exactly true. Back in 2017, a group of Detroit-based drivers working for Silver Star, another company contracted by Amazon, also voted to unionize with the Teamsters. But it didn't last.
In response to the union vote, many of the organizers were fired. Silver Star eventually shuttered the Detroit location. Workers filed a complaint over alleged retaliatory practices with the National Labor Relations Board, which was dismissed for a lack of supporting evidence. Silverstar had to pay out about $15,000 in back pay because of settlement. Amazon avoided any accountability, as it wasn't the direct employer, according to a 2021 report from Wired. Following that debacle, Amazon held meetings for its contractors on how to avoid union drives, according to a 2019 BuzzFeed News report.
Gizmodo reached out to Amazon for more information on how the company will proceed in Palmdale. The e-commerce giant deflected, in response. "Whether the Teamsters are being intentionally misleading or they just don't understand our business, the narrative they're spreading is false. This group of individuals do not work for Amazon," company spokesperson Eileen Hards sent in an emailed statement. "Our delivery network is made up of thousands of independently owned and operated small businesses who provide delivery services for our company."

Confusingly, Amazon's statement also included the following: "This particular third party company had a track record of failing to perform and had been notified of its termination for poor performance well before today's announcement. This situation is more about an outside company trying to distract from their history of failing to meet their obligations." This implies that Amazon doesn't currently have an active contract in place with Battle-Tested, or that any contract between the companies will soon be terminated.
In a follow-up, Hards confirmed she was referencing Battle-Tested, but declined to offer further specifics and details. Gizmodo replied seeking more clarification and also reached out to Battle-Tested Strategies. In a phone call, Battle-Tested's owner Johnathon Ervin told Gizmodo that Amazon's statement was untrue. "As far as I'm aware, my contract is legal until October 3, 2023," when it was scheduled to be up for renewal, Ervin said. He denied having been given any prior notice of poor performance or contract termination from Amazon.

"It's despicable" and a classic example of Amazon's "retaliation techniques" against unionizing workers, Ervin added. He said that his workers have delivered Amazon packages in every weather from snow to 113 degree heat, and still gotten the job done. Today, he said, Battle-Tested Strategies employees, contracted by Amazon, were out delivering Amazon packages. Ervin noted his "lawyers are looking at all the information," but for now, said the next steps are to "continue delivering packages. That's the mission."
Update 4/24/2023, 6:21 P.M. ET: This article has been updated with additional statements from Amazon and Battle-Tested Strategy owner, Johnathon Ervin.