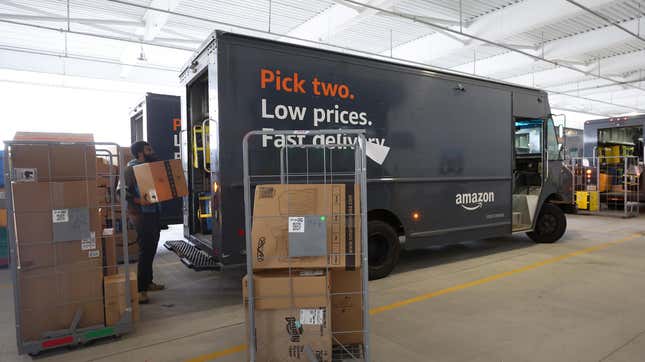 The dark overlord Sauron that is the online retail giant Amazon always has its eye on its workers, and none more so than its delivery drivers. One TikTok shows how Amazon's in-van cameras and AI system can track everything, from how often they buckle up, to whether they take their hand off the steering wheel to scratch their face.
Uh Oh, Amazon Bought Your Favorite Robot Company
TikTok user @ambergirts posted a TikTok on Saturday that has since gone viral. In it, she describes a rather dystopian existence for Amazon delivery drivers. Drivers apparently aren't just flagged for going more than six MPH above the speed limit, they're also cited for not buckling in "enough" or for taking one hand off the wheel to drink coffee, as that's considered "a driver distracted." Even touching the center console is a no-go while on the move.
The 360 "driver i" camera sits just below the rearview mirror. It reportedly tracks what's happening on each side of the van, as well as inside the cockpit. The TikToker often posts about her life as an Amazon delivery driver, both the good and bad, but she did not have anything nice to say about the AI-driven driver tracking. The front camera tracks how close drivers get to other vehicles and whether they "fully stop" at stop signs.
This system not only keeps drivers in a state of constant scrutiny, it also determines their pay, according to a 2021 report from The Information. Any violations have the potential to reduce pay. Some violations, like skipping a stop sign, count 10 times as high as more minor infractions. Amazon's own internal video about the "Netradyne" AI monitoring system notes it does not have audio or live video capability, though it does constantly blurt out commands if drivers aren't following to Amazon's safety code.
The TikToker said every Amazon driver "pretty much hates" the camera system, and while it might seem pejorative it might not be too big an exaggeration. She described how one coworker was cited for reaching up to scratch their beard, as the system flagged it as talking on the phone. That driver reportedly disputed the citation. The TikToker did end the video mentioning that she understood the cameras were implemented for safety reasons, but still the entire system did seem overwhelming.
Amazon spokesperson Steve Kelly told Gizmodo in an email statement that:
"The safety technology in delivery vans help keep drivers and the communities where we deliver safe, and claims that these cameras are intended for anything else are incorrect. Since we started using them, we've seen a 35% reduction in collision rate across the network along with a reduction in distracted driving, speeding, tailgating, sign and signal violations, and drivers not wearing their seatbelts."
Amazon started equipping its "last mile" delivery vehicles with cameras back in 2020, according to the company. The cameras are supposed to be implemented in all branded vehicles by April 2023. The e-commerce giant has also claimed that its drivers are encouraged to "stay hydrated" on the go and further reiterated its drivers can dispute any violations flagged by the cameras. The cameras supposedly turns off when drivers go on break.
Along with its notoriously questionable warehouse conditions, the retail monolith has been dragged particularly hard for how it had treated its delivery drivers. Amazon is being sued for allegedly pocketing drivers' tips. The company has appeared callous when drivers are attacked by animals or when drivers complained about tornados in their area.