The last time Americans tried to reboot Godzilla, the results were... disappointing. But now, Gareth Edwards, director of Monsters, is trying again. And we got the first proper look at what the big bastard looks like this time around.
Last night we partook of the Godzilla Experience at Comic-Con, which is a walk-through maze, created in hopes of hyping up the big Godzilla movie coming out next year. And hype it up they did. Somehow, this studio recreated an entire Tokyo city in one tiny building, including a sushi bar (named after an old Godzilla character) with Kaiju menus, monster-themed carnage, and Godzilla origami.
But more importantly, it showcased the brand-new look Godzilla was given. Based on our view — we got to see his head as he stared at us through a high-rise window — the green behemoth has a strong anklyosaurus vibe, with a snub nose and a spiky back. We're not 100% certain that the below maquette is the final design, but this is certainly the closest version to what we saw at the Experience:
Image via JoBlo.
The Experience itself was a collection of video and set pieces. The detail was massive. You're ushered through a ruined city littered with Godzilla memorabilia, but then the beast attacks. Actors herd the guests into some sort of Godzilla monitoring room — "Oh no, Godzilla is attacking San Diego" — etc. etc.
G/O Media may get a commission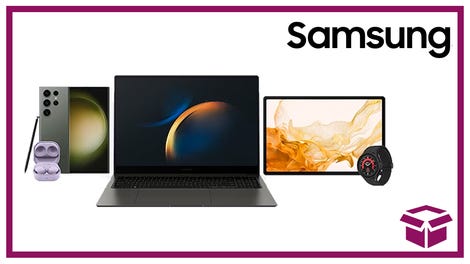 24 hour deals
Discover Samsung - Daily Deal
You scatter, and somehow wind up in the 25th floor of an office building, which is where we ended up staring right into the new face of the big bad. The whole experience was rad, rad, rad. And while we weren't allowed to take a ton of snaps, here's what we captured (or what we found online as well).
Image via Ned Ehrbar.
Image via Ned Ehrbar.
Image via Ned Ehrbar.
Image via Ned Ehrbar.
Image via Ned Ehrbar.
And if you want even more, here's a bit of video from the experience via First Showing.
The Godzilla Encounter is located at the corner of J Street & 7th Avenue in the Gaslamp Quarter of San Diego. You can't miss it. However, you must have a ticket to participate. Tickets are available at the Legendary booth at SDCC and at GodzillaEncounter.com. Thankfully, the ticket process cuts the line-waiting fiasco in half.
Godzilla will premiere on May 16th, 2014.
Top image via Hatori Hanzo. Thanks for the tip! Special thanks to Ned Ehrbar for additional images.