Meet Mama Lee. Mama Lee is 86-years-old, enjoys ballroom dancing, and has been a full-time resident of a cruise ship for the past ten years. It costs her about $164,000 a year, but it really sounds like she's loving her permanent vacation.
Mama Lee's real name is Lee Wachtstetter. She's the widow of a banker and real estate appraiser who also loved cruising. After he died, she took his and her daughter's advice to cruise until she couldn't cruise any more. Mama Lee sold her five-bedroom house in Florida and moved onto a Holland America ship for three years before moving to the Crystal Serenity luxury liner, one of the top-ranked ships in the world. She's been on board for seven years now—save the rare trip to shore, of course.
So that's a lot of cruising. Mama Lee recently told the Asbury Park Press that she and her husband went on 89 cruises during the course of their 50-year marriage and that she's been on almost a hundred since, visiting over 100 countries around the world. "The day before my husband died of cancer in 1997, he told me, 'Don't stop cruising.' So here I am today living a stress-free, fairy-tale life," Mama Lee told the paper. "I enjoy dancing, and this was the best of the remaining ships that still use dance hosts," she said of the Crystal Serenity.
Feel free to envy Mama Lee and her very expensive floating retirement home. But don't forget: not all ships are created equal. It sounds like Mama Lee is enjoying the most old fashioned type of cruising. There's dinner at tables with assigned seating. There are ballroom dancing classes. There's a deck for sunning and a pool or two. It sounds so quaint when you compare it to the latest cruise ship technology. Some hyper-modern vessels feature attractions as far out and insane as a crane-mounted gondola on deck, a rock-climbing wall, a robotic bartender, and even bumper cars.
G/O Media may get a commission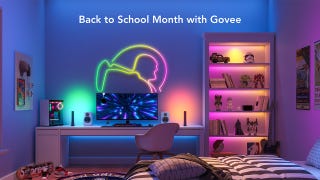 Back to School
Back to School Month with Govee Sale
Factually speaking, more amenities don't necessarily mean a better cruising experience. If a veteran cruiser like Mama Lee is happy spending her entire life on a small ship without a robotic bartender, maybe you should be, too.
Images via Crystal Cruise Lines / YouTube
---
Factually is Gizmodo's blog of fun facts, debunkings, and weird trivia. Join us on Twitter and Facebook.