We first learned about the forthcoming release of Android N way back in March before it even had a name. In June, we learned that the OS would officially be called Android 7.0 Nougat. Today, it finally begins rolling out to Nexus devices with an over-the-air update.

Owners of Nexus devices such as the Nexus 6, Nexus 5X, Nexus 6P, Nexus 9, Nexus Player, and Pixel C should start receiving prompts to update their operating system throughout the day. Any devices enrolled in the Android Beta Program will also receive the update. As with other mass updates, it could take longer for some users to receive the update than others.
Google said in a statement that it could take "several weeks" for Android N to rollout to all users—so just have faith if the update prompt doesn't show up right away. Rollouts tend to occur in stages because some carriers are quicker to send out the update than others.
The operating system will remain largely unchanged since we last reviewed the beta version. It's packed with plenty of useful little tools that make getting work done easier and faster than in previous iterations. Features like multi-window display and a new notifications pane, for example, make it easier to reply to messages quickly and take meaningful action with fewer clicks.
G/O Media may get a commission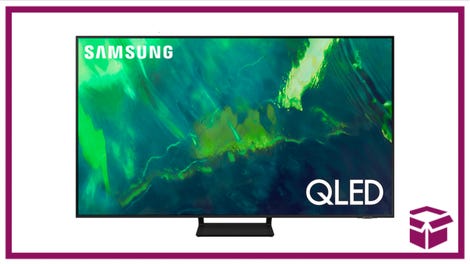 35% off
Samsung Q70A QLED 4K TV
Save big with this Samsung sale
If you're ready to drop some cash on a TV, now's a great time to do it. You can score the 75-inch Samsung Q70A QLED 4K TV for a whopping $800 off. That knocks the price down to $1,500 from $2,300, which is 35% off. This is a lot of TV for the money, and it also happens to be one of the best 4K TVs you can buy right now, according to Gizmodo.
In addition to a new notifications pane and multi-window display, Google packed in a bunch of tools that power users will appreciate. For example, Android now has a built-in file manager, which means advanced users won't have to download third-party tools like File Commander or ES File Explorer File Manager anymore. Android N also lets you block numbers at the system level and swap between your last two apps by double-tapping the recent apps button.
The official release of Android 7.0 Nougat is historic for Google because it will be the first official launch from its new Android Beta Program. Prior to this version, new Android updates were revealed at the company's developer conference and rolled out to phones shortly after. This time around, the company has gave people an opportunity to try out pre-release versions of the operating system to help with maintenance issues ahead of the public release. This should result in a better and more stable version of the operating system.