Android Things was first shown off back at Google I/O 2016, and now, two years later, Google's nebulous internet of things platform is finally getting an official release ahead of the 2018 edition of Google's annual developer conference.
So what is Android Things, you ask? Well simply, it's another variant of the Android operating system like Android TV or Android Automotive, except this version has been designed specifically to perform best on IoT devices, like smart thermostats, air quality monitors, and all sorts of little gadgets that don't really need a full-blown user interface like you'd find on a smartphone or laptop.
The core of Android Things is centered around three pillars: an optimized OS tuned to run well on low-powered devices, a selection of Google-approved hardware kits, and finally, a streamlined system for pushing new software and security updates to IoT devices. While it might not sound like much, that last one is a biggie, because often the little computing devices connected to your wifi are high priority targets that can be exploited by hackers to gain access to your private home network.
But with Android Things, Google is aiming to provide a framework that allows Google, not hardware developers, to be in charge of sending out new updates, which ensures that whenever a new security patch for Android gets released, it will be sent to Android Things devices immediately to prevent the weeks- or months-long waiting periods many Android devices suffer from today.
The big news for Android Things 1.0 is the release of new development kits like the Android Things Starter Kit which features parts including a 5-inch multi-touch display, a camera module, and a wifi antenna for $200, or more affordable kits based on a Raspberry Pi 3 for $90.
G/O Media may get a commission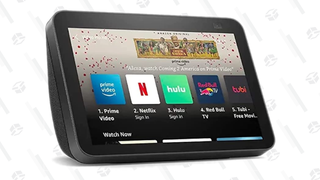 These kits should make it easier for developers and hobbyists to test out their ideas on real hardware, and when the time comes, give them an easier pathway to actual retail production. And to help devs manage all those devices, Google has also created an Android Things Console that can apparently be controlled easily and securely from the cloud.
Of course, the benefits for Google are obvious. Android Things should help expand the reach of the company's ubiquitous OS, while potentially streamlining what remains a very fragmented IoT landscape. Now the platform is officially out there. The next step is to see what people actually do with it, and that should be the really interesting part.