Alex Garland's upcoming scifi spectacle Annihilation looks absolutely stunning and it's set to star a cast of fantastic lead actresses as they embark on a perilous adventure into a strange, mutated land. But some fans of the novel the movie is adapting have an issue with the film's white heroines*.

In Jeff VanderMeer's 2014 novel Annihilation, the first book in the Southern Reach Trilogy, few details are given about any of the explorers who enter Area X aside from their professions. There's the Biologist—the book's protagonist—the Psychologist, the Anthropologist, a Surveyor, and a number of strange, horrifying creatures that hunt them as they try to figure out what's causing Area X's odd biological phenomena. In Authority, VanderMeer's second Southern Reach book, though, we do learn a bit more about the Biologist, specifically that she's of Asian descent and visibly so:
"The biologist's hair had been long and dark brown, almost black, before they'd shaved it off. She had dark, thick eyebrows, green eyes, a slight, slightly off-center nose (broken once, falling on rocks), and high cheekbones that spoke to the strong Asian heritage on one side of her family. Her chapped lips were surprisingly full for such a thin frown.
Similarly, we learn that the Psychologist from Annihilation was born to a Native American mother and a white father:
"From bottom left, clockwise around to the right: a square etching of the lighthouse from the 1880s; a black-and-white photograph of two men and a girl framed by the lighthouse; a long, somewhat amateurish watercolor panorama showing miles of reeds broken only by a few isolated islands of dark trees; and a color photograph of the lighthouse beacon in all its glory. No real hints of the personal, no pictures of the director with her Native American mother, her white father—or with anyone who might matter in her life."
G/O Media may get a commission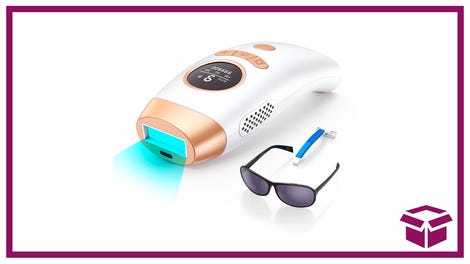 58% Off + Coupon
IPL Hair Removal Device
In Garland's adaptation of Annihilation, the Biologist is portrayed by Natalie Portman and the Psychologist is played by Jennifer Jason Leigh. Both of these women are white, and their casting has caused a number of VanderMeer's fans to accuse Garland and Paramount of whitewashing.

During a recent interview with Nerdist, Garland responded to the accusations by saying that he flat-out didn't know about the characters' backgrounds:
"It would not be in my nature to whitewash anything. That just wouldn't be like me. I read a book and I adapted it because I thought the book was amazing. And I thought, 'I'm not exactly sure how to adapt this, but I've got an idea.' And I just went with it. So that was it."
In Garland's defense, the details about the Biologist and the Psychologist aren't mentioned until Authority. But there are a number of other factors in play that make it seem odd the director didn't bother to pick up the second book. Annihilation is a relatively short novel at 200 pages with some, but not much description of its characters. In fact, Garland recently told io9 he had to take a "liberal interpretation" of the text in order to adapt it. Also, Authority was released three months after the first novel, meaning that the book was more than available for Garland to read, if only to better understand the story he was taking on.
Hollywood has a long-established history of pretending that people of color simply don't exist. Source material in which characters are explicitly described as being people of color is glossed over and big-name, white stars are cast in lead roles for a variety of bullshit reasons that all boil down to the fact that the industry has a deeply-rooted, infrastructural racism problem.
You can make all the excuses you want about why Emma Stone, Ed Skrein, Natalie Portman, or any of the other dozens of other white actors who've been cast as people of color, have been allowed to do so but again, the real answer is all too simple and impossible to ignore.
Get it together, Hollywood.
We've reached out to Paramount for comment on this particular issue and will report back if and when we hear.
[* Ed's note: The original lede could have been misinterpreted to imply that the Annihilation movie was adapting more than the first novel in Vandermeer's trilogy. This has been clarified.]