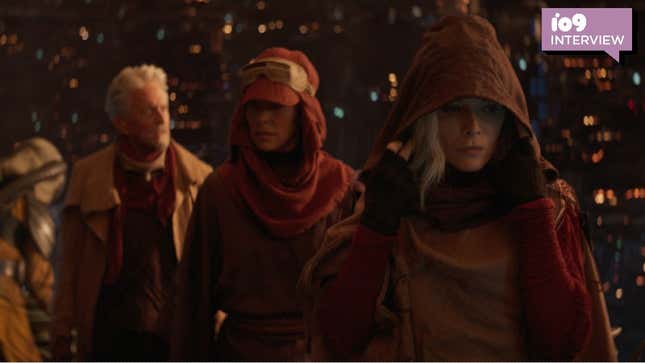 Thanos may have been big, powerful, and evil, but imagine if there were billions of him. That's just a taste of what makes Kang, played by Jonathan Majors, such a formidable villain for the future of the Marvel Cinematic Universe. First appearing in Loki as one version of himself, and soon to appear in Ant-Man and the Wasp: Quantumania as another, we know for a fact that it's going to take some kind of major Avengers event to possibly defeat him. So what the heck is Ant-Man going to do?
Ant-man Director on Creating the Quantum Realm
That question is the heart of why Marvel Studios chose Ant-Man not just as the first of the Avengers to show down with Kang, but to kick off Phase Five of the Marvel Cinematic Universe, according to Marvel Studios president Kevin Feige.
"Phase four, as I said, was about introducing a lot of new characters and new heroes to the world," Feige said this week at a press conference. "We want to go kick off Phase Five with a third film of characters that were already beloved, which [the Ant-Man] team certainly is, and utilize them. We've talked about family. That goes along with vulnerability and relatability. And who better to face off against one of, if not the biggest, villains the MCU has ever faced than this family who you might think could not handle it? And then we learn over the course of the movie that Janet has not only handled it, but has been dealing with it for decades."
That last point hints at a bit of the bigger story of Quantumania, so to dive much deeper would require spoilers. But we will say you learn a lot of what happened to Janet (Michelle Pfeiffer) while she was in the Quantum Realm for all that time. Some of which, probably, had to do with this other being down there. Then, once you add in her husband Hank (Michael Douglas), daughter Hope (Evangeline Lilly), Hope's boyfriend Scott (Paul Rudd), and his daughter Cassie (Kathryn Newton), you begin to see how a family unit just might not be something Kang is used to.
"All of these characters and these amazing actors we thought would be a great audience surrogate to meet somebody as complex and scary and multiversal as Kang," Feige said.
Ant-Man and the Wasp: Quantumania is in theaters February 17.
---
Want more io9 news? Check out when to expect the latest Marvel, Star Wars, and Star Trek releases, what's next for the DC Universe on film and TV, and everything you need to know about the future of Doctor Who.