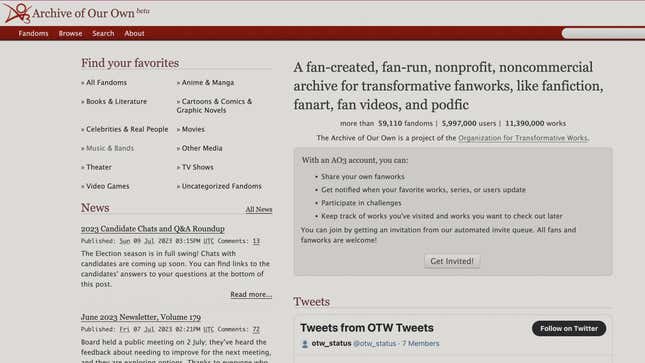 The Archive of Our Own—the largest digital library for fanfiction currently operating, and one of the highest-trafficked sites in the world—was temporarily unavailable after it experienced a large-scale distributed denial-of-service (DDoS) attack from a hacker group calling itself "Anonymous Sudan." Ao3 reported the outage early on the morning of July 10 and had restored service by around noon EST July 11.

While Anonymous Sudan is posing as a religious hacktivist group, it's much more likely that the people behind the digital hacker group are an offshoot of the Killnet group, which is suspected to be backed by the Kremlin, according to Trustwave, a cybersecurity subsidiary company of Singtel. Anonymous Sudan also recently targeted Microsoft Outlook, UPS, and Scandinavian Airlines, causing major problems for all the services, at least briefly. If it thought it was going to have easier pickings with a site like AO3, which is run primarily by volunteers, it might have been mistaken.
Anonymous Sudan eventually stated it was resposible for the DDoS attack, and posted a ransom of $30,000 USD in Bitcoin on its Telegram page. It stated that it would continue their attack of AO3 for "weeks," but the attack was patched fairly quickly.
Give or take a few hours, the site was back up and running at pretty much nominal speeds within a day. During that time, however, multiple fans of the site and fic authors shared what they had to do in order to survive without their "bedtime stories." Folks shared old internet screenshots or hand coded HTML fansites that collected work (typically focusing on either an individuals' output or on a specific fandom or ship). Much was made about "resorting" to different fanfic sites, like Wattpad or Fanfic.net. Luckily for everyone, AO3 is back!
While the main site has been restored, the pages that host the donations for the Organization of Transformative Works, the non-profit that supports AO3, have gone down. Anonymous Sudan continues to claim responsibility via Telegram, and says that this is part of the next phase of its "attack" on AO3, which it claims is due to moral objections of the content hosted on the site—but is, very likely, just an excuse to extort money from a site that runs on donations. The whole thing is being handled with frequent updates by the Archive, which runs with the support of volunteers.

In response to our request for comment, the Archive of Our Own directed us to their recently-posted blog post addressing the attacks. They iterated that they are working to mitigate the attacks, that user data is not compromised, and that people should continue to use the site as normal.
Updated 7/12, 5:03 PM EST, with a blog post from AO3 clarifying the situation.

---
Want more io9 news? Check out when to expect the latest Marvel, Star Wars, and Star Trek releases, what's next for the DC Universe on film and TV, and everything you need to know about the future of Doctor Who.