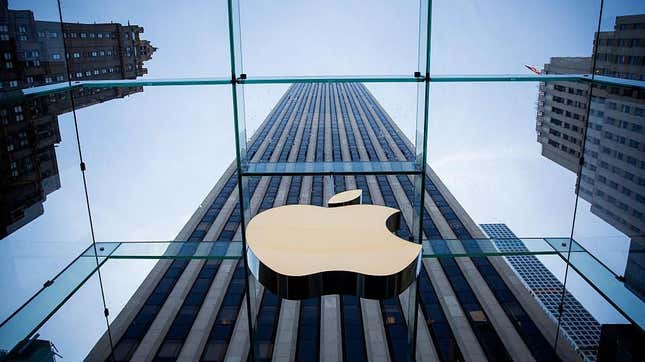 Apple has quietly rolled out a new "digital narration" feature for its audiobooks in a move that could make human narrator jobs obsolete. The company had intended to release the AI-narrated audiobook feature on its Books app in mid-November but according to The Guardian, those plans were delayed amidst Elon Musk's chaotic Twitter takeover and layoffs at Meta dominated headlines.
Hey Google, Where Did My Watch's Battery Life Go?
The Books app now includes a collection of AI-narrated books which significantly cuts costs for book publishers who typically invest thousands of dollars to produce audiobooks. Apple says on its Books for Authors website that the new feature will help promote independently published authors. These authors invest in the creation of their own books either through self-publishing or hybrid publishing in which the author works with a book publisher while financially investing in marketing and production.
Apple did not immediately respond to Gizmodo's request for comment.
Apple approached independent publishers in the U.S. and Canada, asking if they would be interested in a potential partnership, requiring those who agreed to sign non-disclosure agreements which is common within the tech industry, The Guardian first reported.
Authors who agreed to have their work turned into an audiobook were reportedly told they would pay for the cost of production but would receive royalties from their audiobook sales.
Audiobook popularity has surged in recent years but companies have struggled to keep up with the high demand and the increased number of books being published. According to The Guardian, audiobook sales increased by 25% last year, bringing in more than $1.5 billion to the audiobook market. The industry is expected to reach $33.5 billion in overall revenue this year.
Apple's Books for Authors website says bringing AI narration to published works helps authors "meet the growing demand by making more books available for listeners to enjoy."
The AI-narrated feature is currently only available for fiction and romance books and offers two voices, Madison and Jackson, for the listener to choose from. Apple also says on its website that it is kicking off its AI narration for non-fiction and self-development genres, offering two AI-generated voices, Helena and Mitchell.
However, the addition has received criticism from some publishing companies who say listeners want an authentic human voice that provides inflections and tones that AI software can not generate.
Canadian literary agent, Carly Watters told The Guardian that AI-narrated books don't make sense from a literary or listener perspective, saying "It's not what customers want to listen to." The overall value, she said, far outweighs the cost that goes into human-narrated audiobooks.