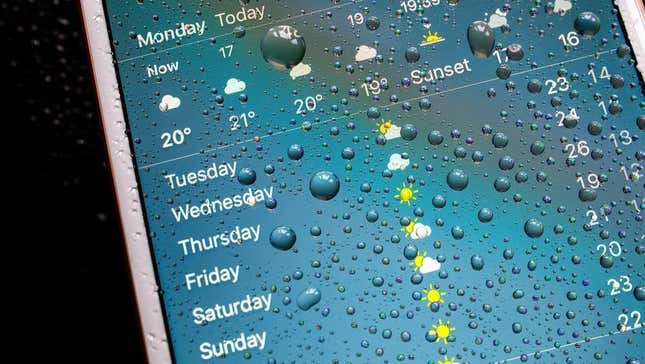 The Apple weather app is working again after it appeared to struggle to meet consumer expectations on Monday night into Tuesday. As more and more people rely on technology, we've become dependent on it for nearly everything, including the (usually) quick and easy step of referring to a weather app on our phone instead of stepping outside.
Why Banning TikTok Won't Protect Our Privacy
Nonetheless, we all fall victim to the information that is supposed to be available at our fingertips, but one click on Apple's weather app early on Tuesday showed we would be forced to approach the day without knowing if the weather will shift. Users could take the alternative approach of looking up today's weather on another app, but this afternoon the company changed the status of the glitch to "resolved."
Apple did not immediately respond to Gizmodo's request for comment.
The app started malfunctioning Monday night and according to Apple's website, only "some users" were affected and the company says it is working to "resolve the issue." Apple users took to Reddit on Tuesday to complain about the ongoing issues, with some claiming their app has gone one step further and is projecting weather that is more than 30 degrees off the actual weather.
"Look how wrong my weather complication is (for reference, it's actually 22 degrees here right now)," one person wrote. They linked to a screenshot of their phone showing the app was saying it is a whopping -12 degrees. Apple stated on another page that "next-hour precipitation may be unavailable for Alaska due to a data provider outage," but users across the world say they are affected. On Reddit, a user asked if the glitch is only occurring in the U.S. and received responses from users in Poland, the UK, Singapore, Czechia, Vietnam, India, and others saying they were experiencing the issue too.
Complaints about Apple's weather app come only a week after the company's Dark Sky app returned briefly since Apple discontinued the weather app in January, and users reported it loaded for a short period before disappearing again. Apple removed the Dark Sky app and switched some of its features to its weather app including next-hour precipitation, rain alerts, hyperlocal forecasts, and customizable weather notifications.
The Apple weather app appeared to be working on the Apple Watch and home screen widget, but is now fully functioning the company reports.
Updated: 4/4 3:33 p.m. ET to include the Apple weather app's glitch was resolved.