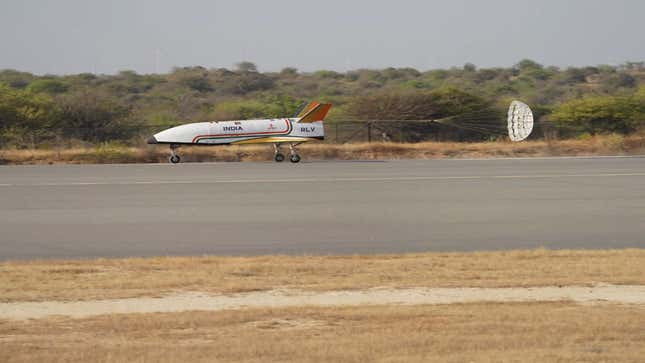 The Indian Space Research Organization successfully conducted a test yesterday of its Reusable Launch Vehicle, an in-development spaceplane that took flight from an air force helicopter at an altitude of 2.8 miles (4.5 kilometers) and landed autonomously on a runway.

Astronomers Could Soon Get Warnings When SpaceX Satellites Threaten Their View
According to ISRO's press release, the launch vehicle took off from the Aeronautical Test Range in Chitaradurga, Karnataka, at 7:10 a.m. IST (9:40 p.m. EST the previous day) as part of the Reusable Launch Vehicle Autonomous Landing Mission, or RLV LEX. A Chinook Helicopter from the Indian Air Force carried the RLV as an underslung load to an altitude of 2.8 miles (4.5 kilometers). The helicopter then released the RLV 2.85 miles (4.6 kilometers) away from the launch site and the vehicle made an autonomous landing back at the Aeronautical Test Range some 30 minutes later.
Reusable Launch Vehicle Autonomous Landing Mission
Reusable Launch Vehicle Autonomous Landing Mission
According to ISRO, this is the first time a winged craft has been carried to such a height by a helicopter and released for an autonomous landing on a runway. ISRO referred to RLV in the press release as "essentially a space plane" that approached the runway during landing at a high glide angle and fast speed (217 mph or 350 kmph in this test) due to a low lift to drag ratio. This particular test also involved on board systems developed by ISRO, including the Digital Elevation Model, which fed the aircraft accurate topographical information using radar.
ISRO previously tested the Reusable Launch Vehicle in May 2016 during the HEX mission. Unlike LEX, HEX saw the RLV launched on board an Hs9 rocket booster and landed during a controlled splashdown in the Bay of Bengal. The RLV was developed by ISRO to serve as a test bed for hypersonic flight, autonomous landing, and cruise flight. Future versions of the vehicle will be scaled up and serve as the first stage of a reusable two stage orbital launch vehicle in order for India to enable low cost access to space.
For more spaceflight in your life, follow us on Twitter and bookmark Gizmodo's dedicated Spaceflight page.