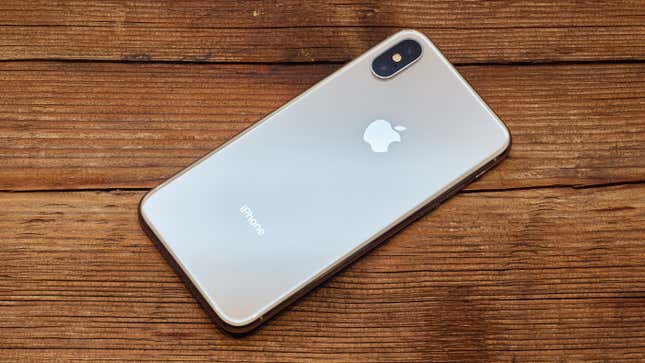 You can now download and install iOS 12.1. That means you'll finally be able to use Group FaceTime (LOL), access over 70 new emoji, and get rid of the annoying image blur that caused "Beautygate." If you own an iPhone 8 or iPhone X, it also means that your processor will get throttled as the battery degrades in order to avoid unexpected shutdowns. It's okay if this doesn't seem like a neat feature. It's actually very controversial!
Taylor Lorenz Talks "Extremely Online"
Perhaps as a result, the processor-throttling detail is sort of buried in the release notes for iOS 12.1. Near the bottom of a long list and under the header "Other improvements and fixes," the document reads:
Adds a performance management feature to prevent the device from unexpectedly shutting down, including the option to disable this feature if an unexpected shutdown occurs, for iPhone X, iPhone 8 and iPhone 8 Plus.
The iPhone XS, iPhone XS Max, and iPhone XR are not mentioned. And again, Apple says that the feature can be turned off if an unexpected shutdown occurs. Upon updating, we did not find an option in the Battery menu to disable the feature ahead of time, so it remains unclear how said disabling will happen.
While it's a new feature on the iPhone X and iPhone 8 devices, battery-related processor throttling has existed on older iPhones for a while now. It's also been the subject of a very heated public debate for nearly a year. The company says its "goal is to deliver the best experience for customers." Some customers disagree about this approach, which is understandable since Apple made their iPhones slower and didn't bother to tell them about it. However, battery degradation is inevitable, and without some sort of intervention, it's very likely that iPhones would become unusable sooner than they already do, if Apple didn't apply some sort of fix to manage power usage in old batteries.
Before we go into what's next, let's review what's happened so far in the throttling scandal. At some point in the past—and without informing its customers—Apple started limiting the power draw of processors in old phones to keep them from spontaneously turning off and to lengthen the battery's lifespan. But after a bunch of Reddit users and benchmark app maker Primate Labs figured out what was happening, Apple faced a torrent of outrage not only from its customers, who felt like Apple was making their devices slower for no good reason, as well as regulators, who felt like Apple wasn't properly informing consumers about its products. The company got hit with a $5.7 million fine from Italy's antitrust organization over the issue, and at least two groups filed class action lawsuits. Senator John Thune also demanded answers about how Apple was going to fix it. Somewhere in the middle of all this happening, Apple slashed the price of battery replacements from $79 to $29. A new battery would, in theory, put a stop to the throttling.
The tricky thing is that Apple never stopped throttling the processors in older phones with degrading batteries. It just got caught doing it, and then issued an update to iOS that gave people access to more information about their battery health. Apple also responded to Senator Thune detailing these software updates and claiming that "iPhone 8, iPhone 8 Plus, and iPhone X models include hardware updates that allow a more advanced performance management system that more precisely allows iOS to anticipate and avoid an unexpected shutdown." Apple didn't explicitly say that newer devices wouldn't get throttled.
So until now, the throttling scandal has boiled down to two things. One, Apple throttled people's phones in the name of better battery performance. Two, the company didn't bother telling its customers about this, and those people and some government agencies got very mad about the lack of transparency. You could argue that Apple resolved the transparency complaint by apologizing last year and making battery replacements cheaper. You could argue that it solved the throttling complaint by including hardware updates in newer iPhones so that they may not need to be throttled. Except now Apple is throttling the new devices, too.
If not slightly confusing, the latest update in the scandal is evidence that Apple can't just stop throttling processors in devices with old batteries. Batteries will inevitably fail, and Apple wants its iPhones to remain functional as long as possible. And while the fact that the iPhone XS, iPhone XS Max, and iPhone XR aren't mentioned in the release notes, we can only assume that Apple will introduce the throttling feature to those phones in a few months or a year. Or maybe the new devices also have hardware updates that might make throttling unnecessary. We don't know for sure, because the company hasn't really explained what's happening.
We've reached out to Apple for more clarity on why the iPhone X, iPhone 8, and iPhone 8 Plus are now getting throttled. We've also asked about the fate of the iPhone XS, iPhone XS Max, and iPhone XR. We'll update this post if we hear back. In the meantime, if this throttling stuff really bothers you, consider not upgrading to iOS 12.1 quite yet. All things considered, if you have a newer phone, you probably have a pretty healthy battery, and the throttling wouldn't affect you for quite some time. Once you've updated iOS, though, you're stuck with it.
Then again, consider dealing with it. Apple's decision to throttle processors sounds bad, especially when the company kept it a secret. It might be the company's only choice, though. Would you rather have a slow phone or a dead phone?