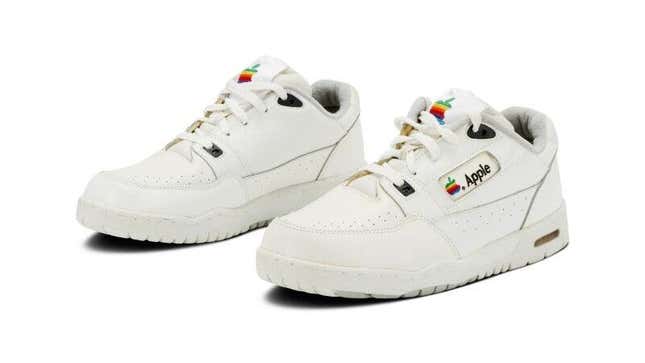 Sotheby's is selling a limited edition pair of Omega Sports Apple Computer Sneakers from the '90s in new condition for the exorbitant price of $50,000. The shoe was distributed at an Apple event but was never made available to the public, making it a highly coveted item.
Buy Now or Wait? How to Avoid Tech Buyer's Remorse
The store advertises a photo of the shoes featuring the original rainbow Apple logo on the tongue and lateral quarter of the shoes which comes in a men's size 10.5 and includes an alternative pair of red shoelaces. The shoes were a one-time giveaway at a National Sales Conference in the mid-1990s, according to the listing, and were custom-made for Apple employees.
Although the shoes are new and still in their original packaging, Sotheby's says in the listing that the sneakers do have wear consistent with age. The imperfections include light marks on the toe boxes and have yellowed around the shoe's midsoles and where glue is in place.
The imperfections are common in any shoe at this age because of oxidation. Shoes that are stored for a long time, even without being taken out of the box, are more susceptible to the yellowish coloring that appears on the Apple sneakers.
This is not the first time vintage Apple footwear has gone on sale with an eye-watering price tag attached. In 2020, a "like new" pair of the Omega Sports Apple Computer Sneakers was listed on Heritage Auction House, receiving 20 bids, and was ultimately sold for $9,687. Another pair of the incredibly rare sneakers was found at a garage sale in Palo Alto, California in 2016 and were brought to the auction house with the starting bid set at $30,000.
Other Apple products have raked in the money with a rare Apple-1 machine selling for $458,711 in a 2020 auction and an original Apple-1 manual selling for $12,296 in 2019. Most recently, an original first-edition 2007 Apple iPhone was listed for $2,500 in February but was sold for a shocking $63,356.40, and just last week, the same phone sold for a record price of more than $190,000.