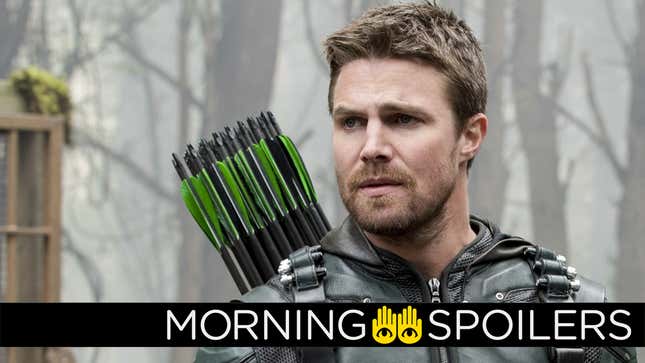 Stefan Kapicic hypes up the return of Colossus in Deadpool 2. Elizabeth Olsen confirms love is in the air for Infinity War. Charlie Cox talks about Matt and Foggy's relationship in The Defenders. Plus, new Game of Thrones pictures, and Henry Cavill issues a very important statement about his mustache. To me, my Spoilers!

Twitter Is Shifting Right | Future Tech

Dumbo
Deadline reports that DeObia Oparei—who plays Areo Hotah on Game of Thrones—has joined the cast as a character named "Rongo". No other details are available at this time.
---
Han Solo
Star Wars News Net reports Spencer Wilding—the actor who portrayed Darth Vader in Rogue One—has cancelled his upcoming appearance at Fandom Fest in Kentucky to work on Han Solo.
---
Deadpool 2
Actor Stefan Kapicic spoke to THR about Colossus's expanded role in the sequel.
He didn't have time at all in the X-Men movies, and he's one of the iconic characters. He needed that space, and thank God [director] Tim Miller and Ryan and Fox decided to give him a spot, which will continue to grow. That's the thing I can say … the sequel will answer many questions, which people are asking right now. Because all the questions I can see on the net are answered in the sequel.
---
The Sound
Deadline reports Orion has acquired the distribution rights to The Sound, starring Rose McGowan and Christopher Lloyd. The film concerns a professional skeptic and specialist in acoustic physics (McGowan) who meets her match after investigating a legitimately haunted subway tunnel.
---
Avengers: Infinity War
Elizabeth Olsen spoke to We Got This Covered about Scarlet's Witch's relationship with Vision.
In any other world I would say, "I don't know," but because there are paparazzi photos that kind of spoil things for fans – I think it's safe to say that we now get to explore that part of the comic book. We get to introduce and really explore their relationship. It creates a really exciting arc for me and I'm so lucky I get to work with (Paul) Bettany all the time now. [laughs]
---
Thor: Ragnarok
Speaking with Comic Book, Tessa Thompson revealed what exactly Valkyrie does for The Grandmaster.
I bring the Grandmaster things that may be of interest to him, and one of those happens to be Thor. [The Grandmaster is] always grouping people together in fights, and I brought the Hulk to him, and so I bring Thor as a would-be contender, and hilarity ensues.
---
Justice League
Taking to Facebook, Henry Cavill broke his silence regarding the difficult process of digitally eradicating his Mission: Impossible mustache.
---
It

Here's a quick teaser for the trailer coming later today, if you're into hydrocephalic sewer clowns.


---
The Vault
We also have the trailer for The Vault, another film starring James Franco in which a group of thieves rob a bank vault, but accidentally release something eeeeeeeeevil instead.


---
Sharknado 5: Global Swarming
Even though the science is divided and we need to do a lot more research before we can be sure we're even causing sharknados, here's the official trailer for the fifth entry in the series.
---
Arrow
Marc Guggenheim has once again reneged on the "no more flashbacks" statement, stating season six will reveal the secret origins of Deathstroke, in flashback form:
As you saw in the trailer Manu Bennett is back for the season premiere and he's also coming back for a special two-part episode in the first half of the season where we're really going to be focusing hard on his character, post everything he's experienced on the show and we intend to do a Slade Wilson flashback story.
---
New Warriors
The great Keith David has joined the cast as Ernest Vigman, "A caustic municipal employee" whose personality causes friction with "the hopeful energy of the New Warriors". [THR]
---
Legends of Tomorrow
EW reports Tracy Ifeachor will play the villainous Kuasa, the granddaughter of Mari McCabe, a.k.a. Megalyn E.K.'s version of Vixen. Not to be confused with the incarnation of Vixen currently on the show, Amaya Jiwe, played by Maisie Richardson-Sellers!
---
The Defenders
Charlie Cox spoke to Screen Rant about the status of Foggy's strained relationship with Matt Murdock following the events of Daredevil's second season.
That relationship is still fractured. I know that in Defenders—because of the nature of the problem, the nature of the issue, the plot in our show—Foggy has to get on board with Matt and what he can do. And I think he begins to see the benefit of someone like Matt. But that doesn't detract from the years of lying.

The real healing is going to have to come later. The Defenders takes place in a week, a very small amount of time, you know what I mean? Only so much healing can be done in that time.
---
The Exorcist
Deadline reports that Li Jun Li has joined the cast as Rose, a social worker and a "by-the-books rule follower" tasked with investigating Andy's capacity to care for the children.
Relatedly, Jeremy Slater and Sean Crouch spoke to Screen Rant about their "six seasons and a movie" approach to outlining the series. According to Slater:
You can't tell a seven-year story about one family that just keeps getting possessed over and over again without the audience starting to hate you for putting one family through so much shit. So the idea is every year we'll have a different case, we'll have a different sort of possessed individual and different family, and but it's Marcus and Thomas — our priests, our recurring characters — that you're gonna follow and have that investment with.
---
Watchmen
Damon Lindelof released a statement to Collider stating he has nothing to say about the development of HBO's Watchmen series.
All I can say at this time is, as of right now I haven't had any meetings at HBO about Watchmen. I've been very vocal about my love for those 12 issues that eventually became a graphic novel, that they were completely and totally inspiring for all the storytelling that I did subsequently, and that I owe a debt to it. So is that piece of material something that's really interesting to me? Yes, but I do feel like I have to weigh the balance of 'Should it exist?' before I decide to take it on, and I'm sort of in that process now. I hold the source material in such high regard it would literally be the worst feeling in the world to screw it up. So I take it very seriously, there's a lot of responsibility. All I can say is I'm thinking about Watchmen a lot right now, nothing official.
---
Game of Thrones
Daenerys finally prepares to meet Jon Snow in pictures from this week's episode, "The Queen's Justice". More available at TV Line.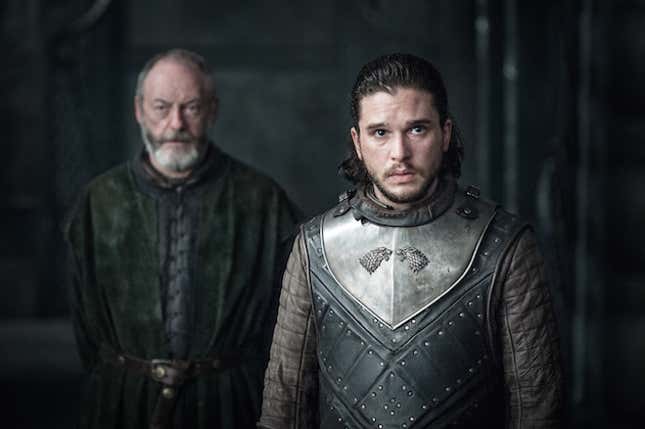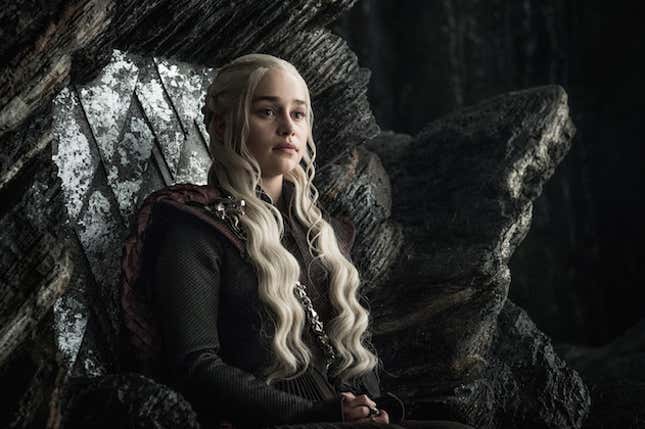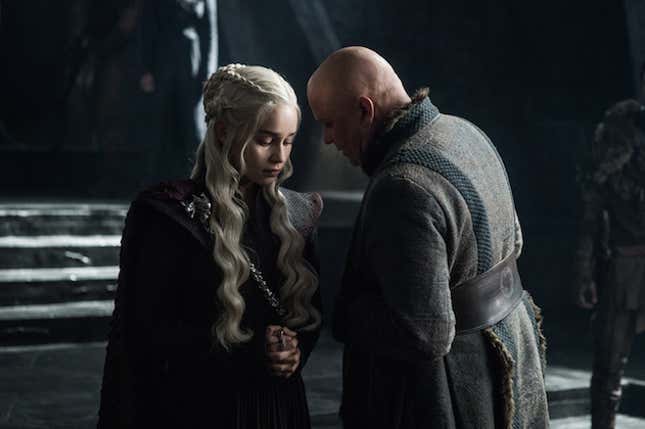 ---
Rick & Morty
Finally, here's a clip of Pickle Rick exploding from a toilet in an exoskeleton built from rat parts... yes, really.
---
Banner art by Jim Cooke.