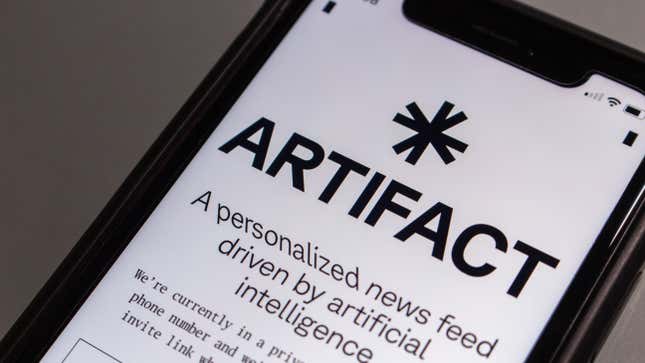 There are lots of ways to write a headline, many of them bad. Take this article, for instance. It might've been titled:

Why Banning TikTok Won't Protect Our Privacy
You'll Never Believe What This App Lets Users Do
or
Emerging App Wages War Against Fake News
or even
This Trendy News App Empowers Users With One Weird Trick.
But if it had been, then you might've felt let down by the actual content of the story. Clickbait tends to do that: make big promises, build expectations, and then deliver something much less exciting than promised. You might've gotten frustrated—maybe even felt an urge to reclaim your wasted time or take some sort of revenge.
Artifact, the news app from Instagram's co-founders, is offering its users an outlet for that feeling. The AI-powered article recommendation platform now allows readers to mark a news story as "clickbait" if the headline doesn't match the post. If a user feels they were manipulated into engaging with an article through a misleading or breathless hype-driven headline, they can flag that post to the app. Clicking on the three dot menu in an article or pressing and holding an article in the feed will bring up the clickbait marking option.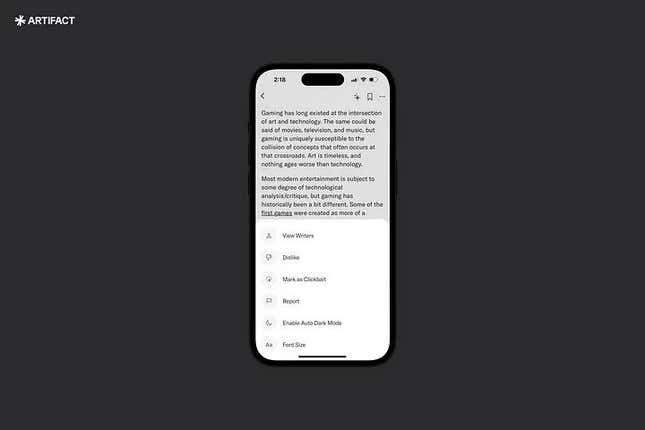 "We will use your flag as a signal in ranking so we can better prioritize helpful articles over misleading ones for the community," the company wrote in a blogpost announcing the feature on Monday afternoon.
Kevin Systrom, Artifact's co-founder, told Gizmodo in an email that the platform's strategy is still in flux, and that for now information gathering is the focus. "Our current approach is to collect data and see the quality of the signal from the user base [as] more people start to mark articles as clickbait," he wrote.
Once there's enough info to go off of, Artifact might begin down-ranking certain articles or delisting content in accordance with clickbait complaints. If an article is reported as clickbait enough times, Artifact might even step in and change the headline, as first reported by The Verge, and confirmed by Systrom to Gizmodo. The company is working to "figure out the appropriate reaction," the tech founder noted. "Currently everything is manually reviewed."
Given all the unknowns, it's unclear exactly how exactly these clickbait rankings will pan out, and how much power Artifact users will really have. Systrom didn't offer definitive answers on what the threshold number of reports might be for an article to become officially labeled as clickbait in the algorithm, nor on how the app might handle headline changes without taking on too much liability for potential introduced errors. But he did note that Artifact would "actively guard against" users erroneously flagging news as clickbait when they dislike or disagree with an article.
The anti-clickbait update adds to the growing list of functions on Artifact that place the app somewhere between Apple News and a social media site like Reddit or the Twitter of yore. Previously, the company introduced in-app comments and "reputation scores" (à la Reddit) so that users could interact with each other via particular posts, and be held accountable for those interactions.
In the same blogpost announcing the clickbait flag button, Artifact also said it had launched two additional features: The ability to react to an article with emojis and the ability to share an article excerpt as an image.
The emoji react options pop up with a long-press on articles in the feed or by tapping the heart icon at the bottom of an article you're currently reading. The image share feature has been added to the share arrow menu, and will allow for concise picture/blurbs to be exported directly to Instagram stories and elsewhere.
Update 5/23/2023, 12:22 P.M. ET: This article has been updated with more information from Artifact co-founder, Kevin Systrom.