Way back on September 27th, 1986, the city of Cleveland was taken over by 1.5 million helium-filled balloons. The photos are amazing. The aftermath was not. Tom Holowach, the project manager of Balloonfest '86, popped by Kinja to say hello, and has kindly offered to answer all your questions about the event. The sky's the limit, people!
For a refresher, take a look at these unbelievable pics we posted this morning from photographer Thom Sheridan.
Here's Holowach:
I was the Project Manager for this event. I worked on it for 6 months and lived in Cleveland for a month preparing for it. We had to design a structure this filled a city square and could stand up to 90 MPH winds, which was building code. The one-piece net was fabricated by the exact company I found in So Cal who built the cargo nets for the Space Shuttle. Kids in schools "sold" balloon sponsorships at 2 for a dollar that went to United Way. The goal was 2 million but we stopped at 1.4 + million. I could do an AMA on this subject.
G/O Media may get a commission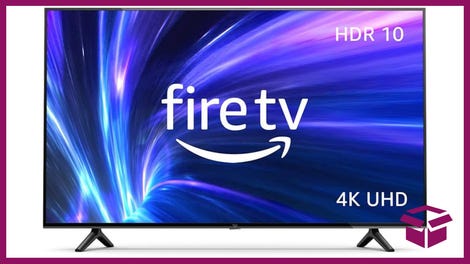 42% Off
Amazon Fire TV 50" 4K Smart TV
So we're taking him up on his web chat offer. Here's a bit more about him:
I have been doing special events logistics since about 1978. I lived in Southern California then and people were throwing a lot of money at PR stunts. I met Treb Heining in 1984, just as he got the contract for the 1984 Olympics Opening and Closing ceremonies. We had to design the logistics of filling hundreds of balloons that made Olympic rings and then cheerleaders moved them to spell "Welcome"… and then let them go. After that, I worked on all Treb's large events, including the 50th Anniversary of Disneyland in 1985. We had to design a way to blow up a million balloons, put them in bags of 1000, and then carry them out to the street. In Cleveland, they wanted to release them from one spot in front of Terminal Tower. I designed the city-square block "bin", got it redesigned to meet Cleveland building code for any structure, and designed and ordered the fabrication of a net that was a city block square. In 1990, I caught the attention of Disney, and worked at Disneyland Hotel and Park till 1995. I have lived in Hawaii since 1998 and have been manager of a theatre at a community college since 2001.
Take it away, Kinja! Ask HawaiiTom anything.