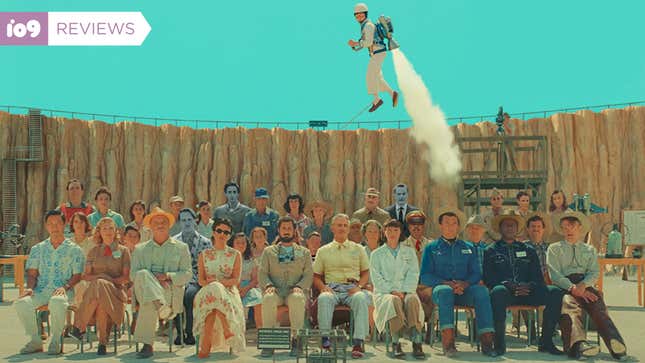 Wes Anderson's work, especially recently, has become more akin to a spectacle than a complete story, and Asteroid City is a tongue-in-cheek exploration of just how much emphasis on style Anderson can get away with. With deadpan deliveries across the board, a palette that switches between vivid desert hues and stark black and white, and a host narrating the play-within-a-play framework, Asteroid City is an overwrought and overwritten exercise in self-aggrandized creative control. I suspect this will be a divisive film, even for fans of the director.

Chris Pratt and Bryce Dallas Howard Nerd Out About Jurassic Park's Returning Heroes
The story follows both the fictional play Asteroid City and its development from writing to first performance, and the characters within the play itself, focusing primarily on Jason Schwartzman's Augie Steenbeck. Steenbeck is a war photographer dealing with the death of his wife when he stops in Asteroid City for his son Woodrow's (Jake Ryan) science convention. When Asteroid City becomes the site of first contact with aliens, the government locks everyone down and all the personalities… well, clash is overselling it. They mingle.
The characters, for two hours, mingle in Asteroid City against the backdrop of a play within a film. Steenbeck explores a romance with A-list actress Midge Campbell (Scarlett Johannson); their children also have a kid-friendly romance. There is something like a character study at the core of this film, but with at least dozen named characters, all with their own quirks, and the overlapping frames (the production and the film), Asteroid City becomes an amalgam of Wes Anderson's best tricks, tricked out until they aren't that fun to watch anymore.
Watching in the moment, the film is enjoyable. It's charming enough, and plenty of the individual scenes are amusing—some even laugh-out-loud funny—but on reflection, and with more distance, the glossy sheen of a Wes Anderson production starts to seem far less interesting. There's just so much style. I admire a director that swings for the fences, that uses their celebrity and hallmarks to craft an energetic piece of art, but this production feels like way, way too much. There are too many stars, too many parts, too many plots, and—it pains me to say this—too much talking. There are, as you might guess, a lot of monologues. Some hit. Many don't.
I enjoy stylized films. The Banshees of Inisherin was the last one I remember seeing in theaters, but work like Men, The Lighthouse, The Lobster—all of these films have a cadence to the acting and pacing that clearly shows how the director made specific choices during production. Asteroid City is likewise stylized, but to such an extent that it feels overwhelming, and without an ending that makes the execution worth it.
Everything is quirky, tongue-in-cheek, and drenched in irony. There's even a moment in the film where Schwartzman exits Asteroid City to go talk to the director, and it is so numbingly absurd and obvious that it becomes difficult to take this film seriously. It is so unnatural that Schwartzman's break becomes the audience's break. I'm willing to say that maybe I just don't get it. But maybe I just don't like it, the kind of visceral gut clench that comes from seeing a metatextual twist of the script fall flat on its face, taking away from everything else rather than adding to the narrative.
Anderson's cast lists have always been full of his favorites, and Asteroid City features a few of his repeat actors; along with Schwartzman, Ed Norton, Tilda Swinton, and Jeff Goldblum all make appearances. But the cast is so massive and so many of roles receive very little screen time that it feels like a never-ending list of cameos and winks to the audience. There are so many moments in individual scenes where the cast really shines, acting the hell out of their roles and making something fun out of the rangy, skit-like premise of each interaction. It's unfortunate that these actors don't get more time to embody their roles, as there are many moments of cleverness in the execution.
Asteroid City feels like three or four different films filmed at the same time, all of them competing for Anderson's attention. All these varied, intriguing little stories could have worked as a limited series television show, but as a film, it feels like it's spinning in place, dizzyingly bright and fun to watch, but ultimately disappointing when it falls on its side, just a pretty little dervish with nowhere to go.
All that being said, it is worth watching; Asteroid City is, if nothing else, a bold move by an experienced director who knows exactly what he wants to put on screen, even if it feels as if he might not know exactly what he's trying to say. Within Asteroid City there are latent ideas about art, production, and the nature of the artist as a constructor of reality. It is a film convinced of its own importance, but without the ability to convince the audience of the same. Much like Woodrow's experiment that projects a love note onto the moon, the film seems to offer itself up as just another projection, aiming for the stars and landing in the desert like a rock.
Asteroid City will premiere exclusively in New York City and Los Angeles on June 16, and opens in theaters everywhere June 23.
---
Want more io9 news? Check out when to expect the latest Marvel, Star Wars, and Star Trek releases, what's next for the DC Universe on film and TV, and everything you need to know about the future of Doctor Who.