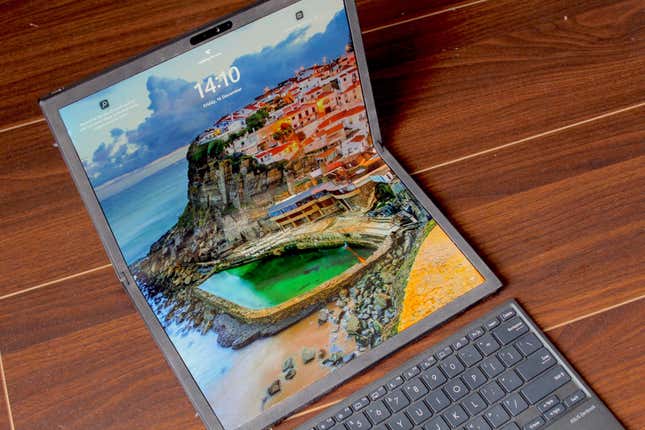 I would describe the Asus Zenbook 17 Fold as the ideal ambassador for the folding laptop. It's far from perfect, nor does its Taiwanese PC maker expect to sell it in droves, given its astronomical $3500 price tag. But after a month with it, the Zenbook 17 has convinced me on what many only a couple of years ago believed was just a gimmick—that the future of computing will be shaped by foldable screens. Sooner than later, we'll be able to carry around what's practically an all-in-one PC, that can transform into a laptop, in our backpacks.

Asus Zenbook 14X OLED Space Edition Review
On its own, the Asus Zenbook 17 is a colossal 17.3-inch Windows tablet. Prop it up on a desk with the built-in kickstand and pull out the bundled Bluetooth keyboard, however, and you've got yourself a portable desktop computer. Fold in one of the far-end edges and the Zenbook 17 turns into a run-in-the-mill 13-inch clamshell laptop. When you're done, curl the halves all the way in, tuck the keyboard inside the gap between, and it shrinks into what looks like a thick planner that you can slip inside the bundled compact leather case. And it works.
Over the last few weeks, I've lugged the Zenbook 17 on flights, cafes, and vacations, and each time, I've been taken aback by its versatility. But it's still a first-gen product, and though Asus has nailed the concept of the folding form factor, the rest of the experience falls short of its lofty price.
Configuration Options
The Asus Zenbook 17 Fold is only available in a single variant. It costs $3,500 and comes equipped with a 2.5K (2560 x 1920) 4:3 OLED screen. Inside, it's powered by Intel's 12th-gen Core i7-1250U chip (two performance cores and eight efficiency cores) and an Intel Iris Xe integrated GPU. There's 16GB of LPDDR5 non-upgradable memory and 1TB of SSD storage (PCIe 4.0 NVMe M.2). You can top up the 75 watt hour battery with the bundled 65W Type-C charger. Also included in the box is a full-size Bluetooth keyboard with a touchpad, USB-C to USB-A dongle, and a faux leather sleeve. It comes preloaded with a licensed copy of Windows 11 Home.
Design and build
When you unbox the Zenbook 17, its design can feel overwhelming. It's got a hodgepodge of materials tailored to protect the form factor's various oddities. Put together, Asus has somehow made it work. The Zenbook 17 is a sleek machine—futuristic almost in some aspects, partly thanks to the stealthy "Tech Black" color. But it still feels like a prototype when it comes to others.
Its chassis, for starters, is constructed out of magnesium alloy that feels sturdy when you're constantly switching between positions. Adding to its cool factor is the additional layer of frosted glass on the top section of its back, which is embossed with the company's edgy new logo and shimmers when reflecting light. On top of that, you'll find a fake leather panel that wraps around the middle crease and serves two purposes: a part of it is a kickstand, and the extra cover protects the folding mechanism when you batter it around.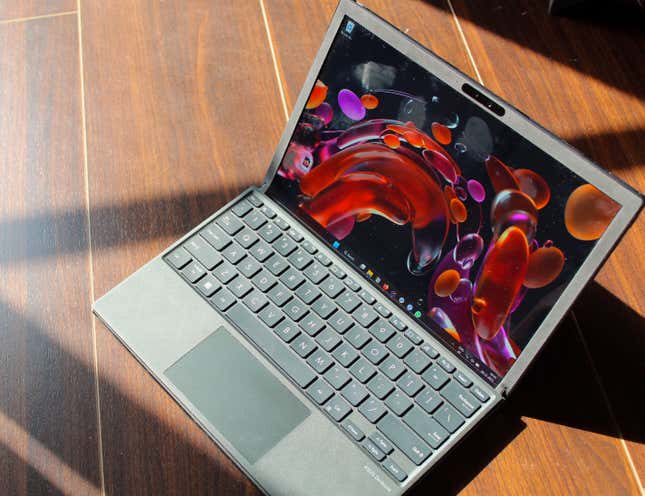 The kickstand is handy and sturdy and I could comfortably snap it out once I was familiar with its location on the back of the device. However, it's a little narrow and doesn't run the entire width of the device like on a Microsoft Surface. Though this is a non-issue when the Zenbook 17 is placed on a hard surface, it will topple very easily on soft bases like your bed. Perhaps a pair of kickstands, one on either side, would have been better.

While the Zenbook 17 is lighter (3.97 pounds, including the keyboard) than other similarly-sized laptops like the Dell XPS 17 (5.58 kg), when folded with the keyboard inside it, it has nearly the same thickness (1.18 inches) as two MacBook Pro 16s stacked on top of each other. Combined with its boxy look in laptop mode and the tactile keys, it gives off a rather old-school ThinkPad vibe.
I've been impressed with the Zenbook 17's industrial build quality and head-turning design across the board. The only pet peeve I have is the presence of plasticky big bezels around the screen, which, Asus claims, are crucial for the folding screen's structural integrity. But their velvety texture tends to attract a lot of dust and requires frequent cleaning. I also worry about its long-term reliability, but I've yet to face any alarming hints of wear.
Display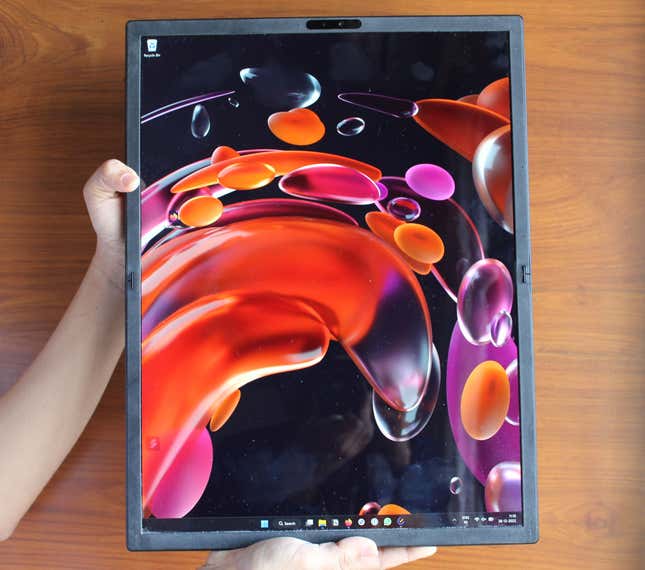 The Zenbook 17 Fold's 17.3-inch screen is its standout feature, and that's not just because it folds. It also looks stunning. With a resolution of 2.5K, it's plenty sharp, and thanks to the OLED panel, it features vivid colors and deep blacks.

OLEDs are notorious for their poor brightness, but that wasn't an issue on the Zenbook 17, either. It can accomplish a peak HDR brightness of 500 nits, which is sufficient when you're working out on in a park on a sunny day. Watching movies and consuming any form of entertainment is delightful on the giant, OLED screen, and I regularly propped it up on my bed to pretty much use it as a television.
Of course, the highlight here is still the screen's folding capabilities. And despite my initial concerns, it appears seamless, and you won't notice the crease in between folds unless you view it from an off-angle. Asus allows you to operate it in a bunch of positions, but there are only two you'll actually take advantage of: one is when it's completely folded out so that you can use it as a 17.3-inch all-in-one style desktop computer, and another is the 13-inch laptop mode, where one half is folded in at a right angle. While you'll barely notice the bezels in the former, they'll be hard to ignore in the latter. But I did get used to them after a few days.
Asus even recommends furling both halves inwards a little to replicate a hardcover book but at 1.5kgs, but it's simply too heavy to replace your Kindle or iPad.
The folding mechanism is strong and works well, but it requires a little extra force from you. At least initially, you will be basically prying it open. That does mean, though, that you can't lift the lid with one hand. Asus claims it's rated to last for 30,000 open/close cycles, which means it should be good for above eight years if you fold it 10 times a day.
Keyboard, touchpad, webcam, and ports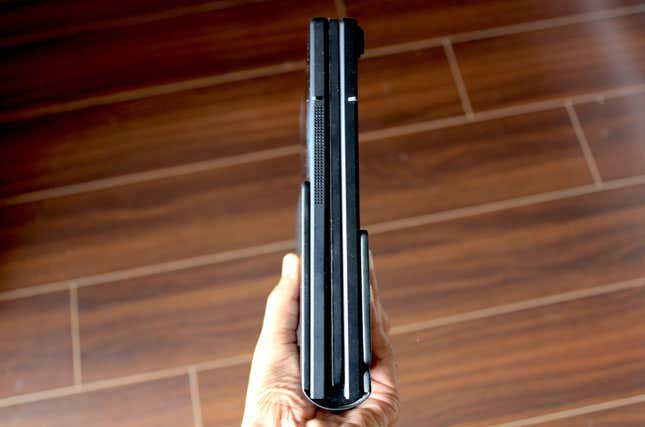 I've had a love-hate relationship with the Zenbook 17's wireless keyboard. The good news is that, in spite of its thin body, the keys themselves are tactile, spacious, and have enough travel (1.4mm) to produce a satisfying sound. I've enjoyed typing on it and could hit my usual 100 words per minute… when it worked.

Unfortunately, the Zenbook 17's keyboard is riddled with bugs. It's supposed to magnetically latch and align itself onto one half of the device, so you can use laptop mode without relying on a touch screen for typing, but that rarely happens perfectly. And if it doesn't align, the Zenbook 17 won't automatically switch to the laptop mode's software and bring up the taskbar at the bottom of the first half of the screen, either. I've faced troubles just connecting the keyboard to it, as well, and have had to frequently turn it off and back on again.
Instead of carrying the keyboard separately, you can also store it between the screen's halves. While that is clever, any slight movement causes the keyboard to wake up and look for connections, killing its battery life. I've had moments where upon reaching my destination and pulling out the Zenbook 17, I find the keyboard is dead, and I've had to charge it with a power bank. Another downside, which I didn't expect to be complaining about on a $3500 laptop, is that there's no keyboard backlight.
The trackpad, though similarly accurate and responding to gestures well, is erratic and in dire need of a software update. The cursor regularly disappears, forcing me to reboot, and because the keyboard is so thin, there's a lot of unpleasant flex when you press it to click.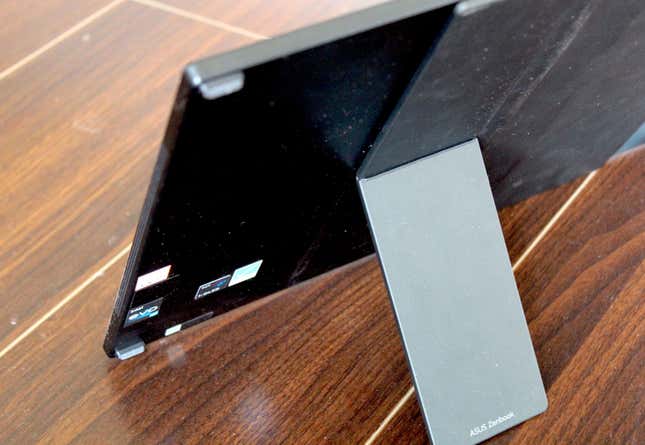 The 5-megapixel IR webcam has been one of the highlights of my Zenbook 17. In addition to letting me unlock the machine with my face, it produces crisp and well-lit pictures and video feeds on calls. It's one of the best webcams I've used on a laptop. But in desktop mode, it will be on the left edge instead of the top center, which means not-so-ideal angles on video calls.

The Zenbook 17 Fold has three ports: a pair of Thunderbolt 4 Type-C ports and a standard 3.5mm audio jack. There's also an LED indicator for the battery and a physical volume rocker on the top.
Audio
The Zenbook 17 Fold has a total of four powerful speakers distributed across its left and right sides, and they can get quite loud. In the computer's tablet mode, their placement makes for a decent stereo effect, but that won't be the case when you're using it as a laptop, since then two speakers will be at the bottom and the other two at the top.
I found them surprisingly rich in quality, and even at the highest volumes, you won't hear any distortion. They do lack the depth needed for you to truly enjoy complicated pieces such as Ludovico Einaudi's works, which you can partly overcome by tweaking the built-in equalizer, but for casual listening, they're more than fine, and you won't need headphones to hear dialogues on a Netflix show or podcasts.
Performance
One of the concerns I had when Asus introduced the Zenbook 17 Fold was if its hardware could keep up with its versatility. For everyday tasks, I'm glad to report that it does. The 12th-Gen i7 chip prevents the Zenbook 17 from skipping a beat whether you're multitasking between dozens of Chrome tabs or hopping from one Zoom call to another.
On one trip, I had the Zenbook 17 all folded out on an airport's business center's desk with numerous browser tabs, spreadsheets, and other resource-intensive apps like Slack and Zoom open. When I wrapped it up to board and opened the computer in laptop mode on the flight's narrow tray, the device instantly complied, resized the busy workspace for the smaller screen, and let me pick up where I left off.
That being said, the Zenbook 17 is still no performance champ. Push it beyond the standard work apps for creative tasks and you'll begin to see signs of slowing down and hear the fan whirring. As expected, it didn't perform the best in benchmarks either.
In Geekbench 5's single-core test, the Zenbook 17 scored 1,612 in single core tasks and a disappointing 4301 in multi core ones. On Blender, the CPU took 09:58 minutes to render a test scene, which is less than the average and longer than what even smaller and much less expensive notebooks like the Dell XPS 13 takes.
The Zenbook 17 Fold is not at all meant for tasks like intensive Photoshop work, and the integrated GPU falls short in benchmarks too. It took 16:30 minutes to transcode a 4K video file down to 1080p in Handbrake and got a 14,577 in Geekbench's OpenCL test. In comparison, the latest M2 MacBook Air takes 4:15 minutes and the Asus Zenbook S 13, 9:47. In addition, the GPU needed 9:20 minutes to complete the Blender test.
As much as I'd loved to play games on that gorgeous 17.3-inch OLED screen, the GPU performance knocks it out of the question. We got an average of 20 frames per second on Overwatch played at 1080p and an Average Turn Time of 9.35 seconds on Sid Meier's Civilization VI's benchmark test.
Battery life
Endurance has always been laptops with OLED screens' Achilles heel, but the Asus Zenbook 17 did far better than I anticipated, especially with its large display.
On most days, when I spent about equal time in the desktop and laptop mode on apps like Chrome and Slack, with a handful of Zoom calls and Netflix episodes thrown in, the Zenbook 17 lasted just a little under seven hours. It's, by no means, comparable to what traditional notebooks like the MacBook Air offer, but given the unique form factor, it's excellent. In our video test, where we run a 480p YouTube video on a loop at 200 nits brightness, the Zenbook 17 lasted 9:30 hours. The bundled 65W charger can top it up from 0% to 100% in a little over 90 minutes.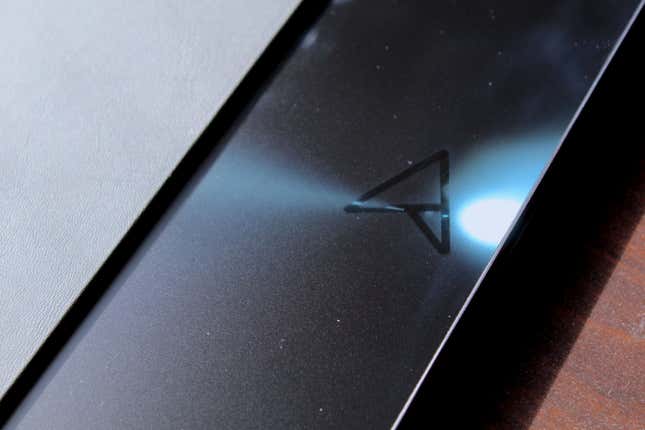 The Asus Zenbook 17 Fold is the first 17-inch folding laptop to go on sale, and despite its shortcomings, it has exceeded my expectations. The idea of a portable computer you can bend to switch between a desktop workstation and a laptop at your whim has always been a distant dream, but the Zenbook 17 Fold proves it's now possible without any significant compromises.
The Zenbook 17 Fold not only accomplishes the concept in spades, but it does so while offering a splendid screen, decent battery life, and snappy everyday performance. At the same time, there's plenty of room for improvement, too. Asus' first crack at it has one too many issues for me to, in good conscience, recommend anyone to buy it. And its jaw-dropping $3,500 cost prevents me from overlooking even minor concerns like the webcam placement.
In 2023, a slate of other PC makers will launch similar 17-inch foldable laptops, and we expect the form factor to go through a few generations of iterations before it's ready to challenge the traditional notebook. If the Zenbook 17 Fold is any indication, its future is more than promising.
---
Shubham Agarwal is a freelance technology journalist from Ahmedabad, India. His work has previously appeared in Wired, The Verge, Fast Company, and more. You can reach out to him on Twitter.