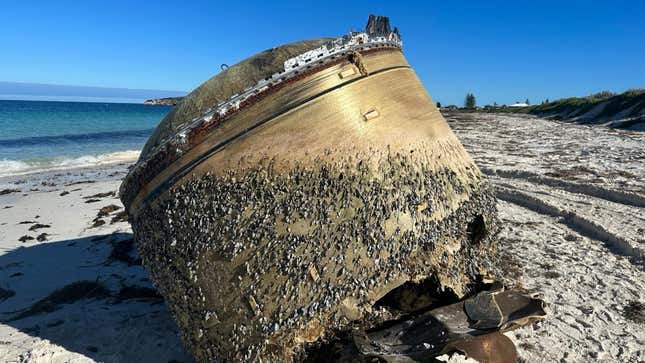 The provenance of a large metallic object that washed ashore near Jurien Bay in Western Australia this past weekend remains unknown, despite rampant speculation about it hailing from an Indian PSLV launch vehicle.

Vizio's Latest TVs Go All Quantum
Local residents reported the sudden appearance of the canister-like object on Sunday, July 16, prompting both local and federal authorities to investigate. Measuring around 8 feet wide (2.5 meters), the copper-toned object appears damaged and ocean-worn; barnacles and other marine organisms attached to its base suggest it may have been underwater for months, even years.
An LVM3 rocket belonging to the Indian Space Research Organisation, or ISRO, that launched to space on July 14 as part of the Chandrayaan-3 mission to the Moon was quickly ruled out, as was its connection to any aircraft, including the Boeing 777 that went missing nine years ago during flight MH370. The Australian Space Agency said the "object could be from a foreign space launch vehicle" and that it's "liaising with global counterparts who may be able to provide more information."
The object's superficial resemblance to a fuel tank from the third stage of an ISRO Polar Satellite Launch Vehicle (PSLV), a rocket frequently employed for satellite launches into space, fueled the belief that it was indeed a part of the PSLV. But this has not yet been confirmed, with ISRO not yet willing to claim ownership of the wayward artifact.
United News of India quoted an ISRO source as saying that, "without seeing it in person and checking it out, nothing could be said" about whether or not the object belongs to a PSLV rocket. "We cannot confirm or deny anything about it without seeing it in person and checking it," they said. ISRO hopes the Australian Space Agency will send some video for analysis. "We have to see if there are any markings on it," the source said. "If required, ISRO officials can go there to confirm whether it belongs to an Indian rocket or not."
The object could very well be a fuel tank belonging to a PSLV rocket, and I suspect we'll find out shortly. If that's the case, however, a more challenging task will be to figure out which exact launch it came from. As India's space chief S. Somanath told the BBC, "some of the PSLV parts are known to have fallen in the sea beyond Australia's Exclusive Economic Zone" and the object "may have been floating for a long time and finally reached shore." Somanath added that there's "no mystery" about the artifact, saying "it is part of some rocket."
Harvard-Smithsonian astronomer Jonathan McDowell said it's "definitely part of a space rocket or missile," when contacted by Gizmodo in an email. After some initial skepticism, McDowell is "now leaning towards agreeing that the object is the tank from a PS3, an ISRO PSLV third stage rocket, which is placed on suborbital trajectories after launch from southeastern India." To which he added: "The impact points for the PS3 vary widely depending on the mission, sometimes reaching as far as the Eastern Pacific west of Peru," but for "some launches the PS3 crashes in the southern Indian Ocean and these could plausibly end up drifting to Western Australia."
According to United News of India, the Australian Space Agency has reached out to ISRO on the matter. In the meantime, we're eagerly awaiting the resolution of this celestial enigma.

For more spaceflight in your life, follow us on Twitter and bookmark Gizmodo's dedicated Spaceflight page.