The eruption at Kilauea volcano on Hawaii's Big Island has technically been going on for over 30 years, but became a problem in recent weeks when a collapse on its eastern flank started draining its lava lake into surrounding parts of the island. It's continued to get worse since then, and as of Sunday, CBS reported a total of 17 active volcanic fissures have opened up, including one near the Puna Geothermal Venture energy conversion plant:

Officials had said an 18th fissure opened up, but because no lava was seen spewing from it, they are documenting 17 total active fissures so far on Hawaii's Big Island.

Hawaii County Civil Defense officials urged residents of Halekamahina Loop Road to evacuate as well as two nearby community centers that were serving as shelters for people and pets. It was there that officials found the new fissure along the road. They numbered fissure 18, but later renamed it No. 17.

Popping, exploding and sloshing sounds could be heard from the fissure as far as 1,500 yards away. Observatory scientist Steve Brantley says this most recent fissure measures 1,000 feet but is not acting vigorously. There is some intermittent spatter but no substantial lava flow.
Said plant was fortunately evacuated of 50,000 gallons of flammable pentane gas, CBS added.
Many of the older fissures have stopped spewing molten rock, though the Associated Press reported that one of the newer fissures was spewing magma as far as 100 feet (30 meters) in the air, and the situation risks getting even worse as the volcano runs out of "relatively cool, sluggish magma left over from a similar event in 1955" and instead begins leaking fresher magma. According to CNN, the United States Geological Survey's Hawaiian Volcano Observatory is additionally warning that it is possible that Halemaumau crater at Kilauea's summit could undergo an explosive steam eruption potentially capable of covering an area of 12 miles in plumes of ash. 
Such a situation could become a possibility if the amount of lava in the volcano diminishes below the water table, which would send water pouring in and potentially cause a devastating reaction when it flashes to steam. As the Washington Post noted, precisely that mechanism is believed to be responsible for an incident in 1790 that wiped out a group of native warriors almost instantaneously. According to USA Today, the potential steam eruption could happen with very little notice, and the Hawaii National Guard is preparing for evacuation operations that could involve "ground convoys and even helicopters if necessary" to retrieve hundreds of locals who did not evacuate.
G/O Media may get a commission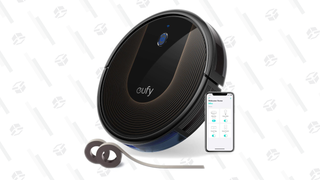 48% Off
Eufy BoostIQ RoboVac
One concern is that residents could be trapped by lava flows, debris, or toxic fumes in a situation that develops considerably faster than anticipated.
"We've got all the warning signs we need," Steve Brantley, the deputy scientist-in-charge at the HVO, told the Honolulu Star-Advertiser. "There may not be any additional warning before the magma actually starts moving up to the surface."
Some 1,700 people have already evacuated as lava flowed through nearby Leilani Estates, destroying dozens of homes and leaving residents shocked. However, no deaths or serious injuries have yet been reported.