The special features you get with iTunes' movies aren't really that special. Well, if anyone is going to do something about it, it's James Cameron. Say what you want about the guy, he's always pushing the technological envelope.
AVATAR iTunes Extras Special Edition will be released on Tuesday, December 20th with features you won't even find on that fancy Blu-Ray player you have sitting under your TV. The movie will include the ability to watch the 3D template, the performance capture and the what was released in theaters at the same time for 17 scenes. It's actually pretty cool for anyone interested in film, special effects, or just likes watching people run around in pajamas acting out scenes on a sound stage.
Also, if you've ever wondered what's green screen and what's real on a set, the special features also include something called Green Screen X-ray. Just move your mouse over an area and you'll see the green screen and the harnesses used to keep the actors in the air during one of the scenes. You'll also get 1,700 images, the original screenplay and James Cameron's original story treatment.
The HD version of the movie will set you back $20 while the SD version will be $15. You can pre-order the movie today at 11AM PT/8AM ET. The features are iTunes on Mac and Windows only. Don't go trying to see all this fancy on your iPhone or iPad.
G/O Media may get a commission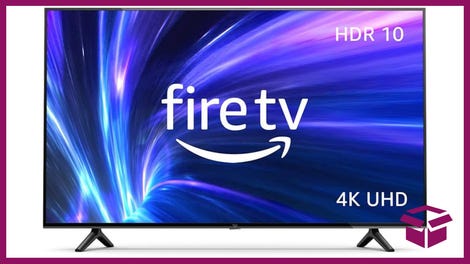 42% Off
Amazon Fire TV 50" 4K Smart TV
AVATAR iTunes Extras Special Edition