Quicksilver's connection to Magneto in X-Men: Apocalypse will be more than just a joke. Warcraft teases its female hero. Chris Miller drops a hint for the Han Solo spinoff film. Plus, new images from Game of Thrones and The Flash, a new Civil War clip, and Jay Hernandez on what makes Suicide Squad unique. Spoilers Get!
Avengers: Infinity War
Screenwriter Stephen McFeely tells Joblo that the movie will avoid Marvel's past pitfalls with villains in its portrayal of Thanos:
If you think about it, I get the criticism, but the early phases were all origin stories. It tends to create a similar villain. When it is no longer an origin story, I think you might have a little bit more freedom to create different villains. I'm sensitive to the problem. I get it. But it wasn't the Robert Redford story, it was Captain America: The Winter Soldier. It wasn't the Red Skull's journey, it was the journey of one guy going from ninety pound weakling to American hero and then going into the ice.

So in a 120-minute movie it is difficult, and Thanos will possibly change that, but you want time spent. Excuse me for going on a tangent but I love the Marvel Netflix shows because you have so much more time to spend with your villains. It's literally minutes and hours spent. We have 120-minutes and Jessica Jones had how ever many it had.
---
The Killing Joke
The animated adaptation will be released August 2nd. [ComingSoon]
---
Wolverine 3
Eriq Lasalle has been cast in an undisclosed role. [Variety]
---
Slender Man
Screen Gems is making a film based on the "internet folklore" supernatural horror figure Slender Man. The film will be written by David Birke, and is aiming for a 2017 release. [Comicbook.com]
G/O Media may get a commission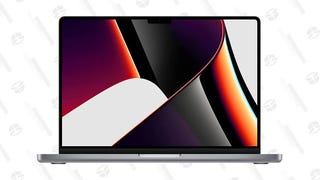 Save $300
2021 14" 1TB MacBook Pro
---
X-Men: Apocalypse
Evan Peters says there's a lot more to Quicksilver and Magneto's relationship in the movie than the punchline seen in the trailer:
It's a big motivation for Quicksilver to get out of his mom's basement. He's trying to find his father and help him out.

It's tough, man, it's a hard thing to meet with an estranged father. It's a very difficult thing. It's a very real thing. So it was interesting to play that side of Quicksilver.
---
Suicide Squad
El Diablo actor Jay Hernandez hypes up the film:
Suicide Squad is the next step. Everything starts somewhere and is going to end somewhere. I think this is that next step in the evolution of superhero movies… [There are] characters from the other movies that have come in onto our project. It's interesting because, as a filmmaker and as a writer, you have to make it make sense. You have to find some way to infuse characters that aren't really part of the narrative, but still have it make sense and have it not just be this weird piece where you're setting up the other movie. It's fluid and it has to feel right.
---
Captain America: Civil War
Elizabeth Olsen discusses her new costume in the film, adding that it's unlikely she'll ever wear Wanda's classic uniform in the movies:
About the same meeting Joss Whedon even mentioned who we were meeting about, he said, 'There's this character Scarlet Witch that I'm interested in for you to play,' and then he said, 'When you go home and Google her, just know you will never ever have to wear what she wears in the comics.'
Hawkeye comes to the rescue in another new clip.
---
Warcraft
Here's a brief new character profile highlighting the half-orc, half-human assassin Garona Halforcen.
---
Han Solo Anthology
For Star Wars day yesterday, Chris Miller teased fans with a shot of Han's blaster on what appears to be a surface from the Millennium Falcon:
---
Wonder Woman
Set pictures of a scene being filmed in a modern setting have hit the web, including one of a truck featuring the Wayne Enterprises logo.
---
The Flash
A gallery of pictures from "The Runaway Dinosaur" has been released—more at the link. [Spoiler TV]
---
Game of Thrones
Pictures from "Oathbreaker" have made their way to the web—click through to see more. [ComingSoon]
---
Legends of Tomorrow
And likewise, a gallery of stills from "Destiny" has been released—you know the drill, more at the link. [Comicbook.com]
---
Wynonna Earp
Finally, here are some images from "Walkin' After Midnight"—you can find more at the link. [Spoiler TV]
---
Additional reporting by Gordon Jackson. Banner art by Jim Cooke.