Baltimore harbor is apparently only about a half step up from Rio in terms of cleanliness given that the city's newest green machine—a trash-collecting water wheel powered by the sun—is expected to extract some 50,000 pounds of garbage from coastal waters every day. Every day.
Storm runoff is a big problem for the city of Baltimore, MD as it often transports heaping piles of plastic bottles, cups, bags, car parts, body parts, and other debris from gutters into its waterways. But that's where the Solar Powered Water Wheel Trash Interceptor comes in. This ingenious device combines a floating garbage can with a solar water wheel. As the wheel turns, it collects trash along with pails of water. The water is then filtered out while the trash is unceremoniously deposited into the dumpster for collection.
According to the Waterfront Partnership of Baltimore website:
The Water Wheel Powered Trash Interceptor was invented by Clearwater Mills, LLC and, when installed, was an important part of Baltimore Harbor's trash reduction strategy. It was first located in the Jones Falls on February 5, 2008 and in just three months of operation removed 130,000 lbs of trash and debris. Adjacent businesses and residents saw a noticeable reduction in trash floating in the open waters of the Harbor. However, it was determined that the device was not of sufficient size to capture the high volume of debris coming down the Jones Falls and as a result the Department of Public Works moved the intercept to Harris Creek. In August 2011 the Department of Public Works removed the Water Wheel from Harris Creek.
Now a permanent, 14-foot tall wheel is back in the inner harbor and is expected to collect up to a million pounds of trash a year.
"We're expecting somewhere 600,000-800,000 pounds a year. But it all depends on how much rain we have," Daniel Chase, one of the wheel's operators employed by Clearwater Mills, told CBS Baltimore. "The wheel is just the engine, and the fuel is the river current or solar power charging batteries and pumping water."
G/O Media may get a commission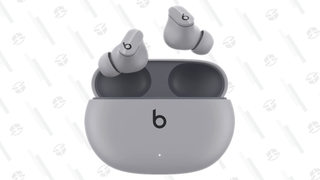 Officials hope the wheel will only have to be used until about 2020 when city officials can finish educational outreach efforts to inform the public littering on this scale makes them all look like a bunch of fucking philistines and that they need to throw their trash away like adults. [Healthy Harbor Baltimore - CBS Baltimore]