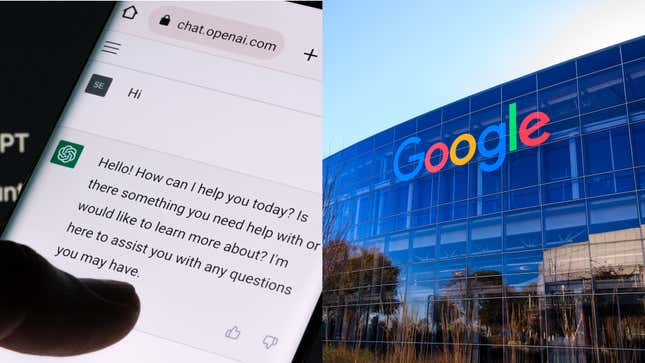 Nothing has made the tech industry cower quite the way ChatGPT has. While some have tried to hop on board asap, others—like Google—are attempting to compete. The tech giant has just announced its answer to the wildly popular chatbot, and it's called Bard.

Google's Antitrust Case Is the Best Thing That Ever Happened to AI
Bard is Google's own experimental chatbot that is built with the company's Language Model for Dialogue Applications, or LaMDA. LaMDA is the same AI engine that an ex-Google engineer warned us was sentient, but the company hopes that LaMDA is powerful enough that it will make Bard Google's rival to ChatGPT. Bard is currently only available to testers, but Google says that Bard is using a lightweight version of LaMDA, so it can scale easily after the trial period and reach more users.
"Bard seeks to combine the breadth of the world's knowledge with the power, intelligence and creativity of our large language models. It draws on information from the web to provide fresh, high-quality responses," Google CEO Sundar Pichai said in a company blog post. "Bard can be an outlet for creativity, and a launchpad for curiosity, helping you to explain new discoveries from NASA's James Webb Space Telescope to a 9-year-old, or learn more about the best strikers in football right now, and then get drills to build your skills."
Google has also added some AI capability to its basic search engine function, because, as Pichai puts it, "people are turning to Google for deeper insights and understanding." In other words, Google wants its search engine to provide quicker answers to deeper, potentially multi-part questions. The company also indicated that the search engine's interface may change slightly too, in order to feed users more in-depth answers to questions in an easier way.
ChatGPT has taken the world by storm since its release to the general public late last year. As Big Tech has taken notice, Google appears to be the first to release its own version of the chatbot while others, like Microsoft, have decided to hop on the bandwagon. Microsoft invested billions of dollars into OpenAI to super-charge its search engine Bing with ChatGPT, which could have a widespread release this spring.