Travis here, back in freezing Kansas. I was given the amazing opportunity to be one of Gizmodo's writers covering CES and here are some of the gems that really caught my eye.
Water-cooled Xbox 360 — Since I picked up my 360 a couple of weeks ago it seems that I have turned into one of those overly-excited fanboys. You know, "PS3 SUX LOL!!!11" Seeing an upcoming company like Cool IT installing a water-cooling system into an Xbox 360 just tickled me pink.
Hannspree's LCD TVs — Even though the Hannspree rep was kind of a cock to Joel and me about Gizmodo's past coverage of their Buzz Lightyear TV, their TVs were awesome. Awesome in a way that isn t so much practical, but looks cool as hell and could fit into a uniquely designed room, primarily kids' rooms. They did release an LCD that included these side-attached straps that folded around to protect the screen and double as a carrying case.
G/O Media may get a commission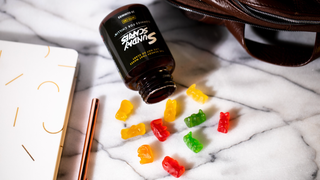 10mg CBD Gummies (22-Count)
The Sony E-Reader — Hell, this thing was so cool we even had another post about it. This is the future, kids. It looks amazing, clean, crisp, easy to read, and will begin at a moderate price tag. At CES they were displaying lots of demos that included regular books and manga, but I am excited to see the textbook applications in the future.
Robosapien Media — These things may seem a little gimmicky at first, but after getting to play with the prototype RS Media I have became a fan. This thing can fully interact with your PC to become a customizable MP3-playing robot. Team this up with the other new Robosapiens and the Lego Mindstorm NXT for a 2006 full of badass consumer robots.