Despite his company's litany of problems, Uber CEO Travis Kalanick was supposed to appear onstage at Code Conference, a fancy tech gathering, at the end of May. It would have been a good time for the yelling executive to weigh in on the allegations of sexual harassment at his company, the ongoing investigation into those claims, the assorted lawsuits Uber faces from its competitors, and the fact that tons of high-profile employees—even PR flacks—are headed for the exit.
Would this be a fun interview? Probably not. But from Kalanick's perspective, it could present an opportunity to try to shift the prevailing narrative about the current state of the company, or put forth an argument for why he should remain as CEO to a ballroom full of industry folk.
But Kalanick won't be going to Code Conference this year. Instead, according to an Uber spokesperson, he won't be able deliver his musings because of "the delay of the Holder review." (The "Holder review" to which the spokesperson refers is former Attorney General Eric Holder's investigation into claims of a company culture marred by sexual harassment.) In his place will be Uber board member Arianna Huffington, who will no doubt talk about how the stress of being on Uber's board has affected her sleep schedule.
At first glance, this might not seem like a big deal. People cancel on events all the time in the middle of major crises, right? Well, sure. But they usually don't cancel on this conference. In fact, as authors (and Code conference creators) Kara Swisher and Walt Mossberg noted in their announcement, this cancelation is actually unprecedented for the Code conference (and its predecessor, the All Things D conference):
Microsoft's Bill Gates came despite the Vista disaster; Apple's Steve Jobs came despite the stolen iPhone prototype debacle; various Yahoo chiefs came despite heaps of bad publicity and takeover rumors; Steve Case came soon after the utter humiliation of AOL's failed merger with Time Warner. Even Ralph de la Vega of AT&T came during controversial network failures.
And then there was Groupon's Andrew Mason, who managed to make everyone laugh while answering questions despite the deep troubles at his company. (By the way, Theranos CEO Elizabeth Holmes appeared at the Wall Street Journal conference just days after the Journal published a devastating investigation of her business.)
G/O Media may get a commission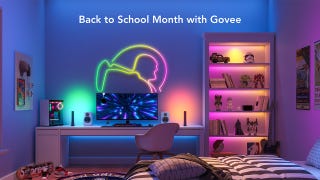 Back to School
Back to School Month with Govee Sale
To repeat, Elizabeth Holmes showed up at a Wall Street Journal conference a few days after that newspaper's reporting set into motion the destruction of her business. Elizabeth Holmes has bigger balls than Travis Kalanick.
When you consider that plenty of other executives have kept their commitments, even in the light of very bad things happening around them, blaming the "delay of the Holder review" just looks pathetic—and a bit unbelievable.
In that light, here are some excuses Travis Kalanick should have used instead.
He was too busy yelling at someone else.
Uber's flying cars won't be ready until 2020.
He deleted his Uber app and getting his account back is a bit of a pain.
Google repossessed his self-driving car because the tech was pilfered.
It's better for Uber's diversity numbers if a woman shows up and is forced to take responsibility for his poor decisions.
He'll be busy tagging #undelete on walls in a team-building exercise with employees.
He'll be in line for The Last Jedi. The movie won't be out until December, you say, but the best seats are up for grabs RIGHT NOW.

His Nintendo Switch is finally supposed to arrive and he can't trust UPS to leave it with the help.
He'd rather be at an escort bar, making employees feel bad about themselves.
He's been banned by Lyft for trying to put them out of business.
If handled correctly, Kalanick could have used the conference as a way to spin the room that he actually can bring Uber out of this mess. Instead, he's acting like a baby and inspiring further signs that Uber is doomed.