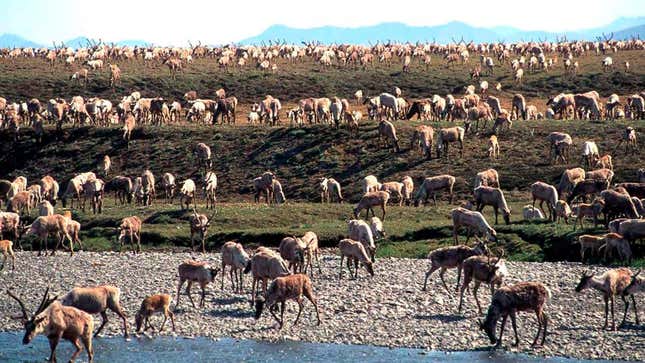 The Biden administration officially canceled the seven remaining oil and gas leases in Alaska's Arctic National Wildlife Refuge on Wednesday and proposed protections to stop development and protect millions of acres in the National Petroleum Reserve-Alaska.
Meet Microsoft's New Surface Laptops
According to Secretary of the Interior Deb Haaland, the decision was made to further push for environmental protections throughout the country and to protect Alaskan wildlife. The National Petroleum Reserve-Alaska is home to polar bears, caribou, and thousands of migratory birds.
"With climate change warming the Arctic more than twice as fast as the rest of the planet, we must do everything within our control to meet the highest standards of care to protect this fragile ecosystem," Haaland said via a press release.
The seven oil and gas leases were issued by the Alaska Industrial Development and Export Authority (AIDEA) in the days leading up to President Joe Biden's inauguration in 2021, Reuters reported. Canceling those leases has angered Republicans. Mike Dunleavy, the governor of Alaska, accused the Department of the Interior of rewriting laws. "We will fight for Alaska's right to develop its own resources and will be turning to the courts to correct the Biden Administration's wrong," he tweeted yesterday.
Some Democrats are upset as well. The leases and other fossil fuel projects have been supported by figures on both sides of the political aisle because, you guessed it, development and drilling have created jobs. U.S. Representative Mary Peltola, who is a Democrat, said that canceling the leases would especially harm local indigenous communities.
"This administration showed that it is capable of listening to Alaskans with the approval of the Willow Project, and it is some of those same Inupiat North Slope communities who are the ones that are most impacted by this decision," she said in an online statement. "I will continue to advocate for them and for Alaska's ability to explore and develop our natural resources, from the critical minerals we need for our clean energy transition to the domestic oil and gas we need to get us there."
Some environmental watchdogs say that the recent move needs to be paired with stricter laws to overall ban oil and gas drilling in Alaska. Kristen Monsell, a senior attorney at the Center for Biological Diversity called the reversal a half-measure for fighting the climate crisis.
"Keeping options open for any new oil and gas drilling could lock us into more fossil fuel emissions for decades to come, and we can't afford that," Monsell said in an emailed statement. "We have to end all oil drilling in the Arctic if we want to preserve the region and the polar bears, ringed seals and other wildlife already struggling to survive there."
This move also comes months after the Biden administration approved the Willow oil project in the Alaskan petroleum reserve, angering conservation groups and environmentalists. At its peak, the huge oil and gas project in the Arctic could produce up to 180,000 barrels of oil a day. That's almost 2% of the United States' oil production.
Want more climate and environment stories? Check out Earther's guides to decarbonizing your home, divesting from fossil fuels, packing a disaster go bag, and overcoming climate dread. And don't miss our coverage of the latest IPCC climate report, the future of carbon dioxide removal, and the un-greenwashed facts on bioplastics and plastic recycling.