If you're a regular rider, you're already familiar with the soul-lifting thrill of spending some quality time in the open air before after the daily grind: heart beating, blood pumping, sweat gently flowing, and the world flying by your handlebars. If you're not—and we've all been there!—it can be a little intimidating to know where to start.
It's a beautiful morning in San Francisco and tomorrow's forecast is crisp and clear. You know what? That's picture perfect weather for dusting off the ol' two-wheeler and riding into the office. Great timing, too, as May 8th is San Francisco's 20th annual Bike to Work Day!
We talked to the San Francisco Bike Coalition—the largest advocacy group of its kind in the country—about how best to get prepped. Here's all the info you need to get rollin' (and they have tons of great resources on their site, and fun events scheduled all month).
On a personal note, I cannot even begin to say enough good things about cycling to work. Before I bought my bike about five years ago, I honestly don't think I had been on one in years—even a decade, maybe. I decided to invest in a road bike before a triathlon and thought—maybe I'll use it a couple days a month to get to work. That could be cool. I was really, really nervous the first time out, but ohmygod. Oh my goddd. Not only did it immediately make getting back and forth to an office the most enjoyable part of my day, but it also completely changed the way I navigate the city; there has probably not been a day since that I haven't been joyriding around, running errands, getting from here to there infinitely quicker than any other mode of transport. Which is why Bike to Work Day—or whenever you decide to try it out, really—could be the start of something wonderful.
Not a Northern California resident? Consider this a warm up for National Bike to Work Day coming up on May 16th (and, in the meantime, check out our bullshit-free guide to commuting).
G/O Media may get a commission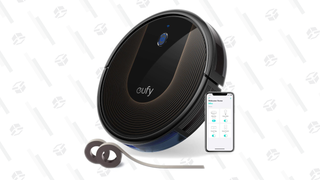 48% Off
Eufy BoostIQ RoboVac
---
Welcome to Fitmodo, Gizmodo's gym for your brain and backbone. Don't suffer through life as a sniveling, sickly weakling—brace up and get the blood pumping! Check back each week for the latest in fitness science, workout gear, exercise techniques, and enough vim and vigor to whip you into shape.
---
Plan Your Route
Even routes you know well by bus, car, or foot are probably going to need a bit of a tweak to be maximized for bike efficiency and safety. This ultra-handy BikeMapper is an incredible resource for newbies and old pros alike. Type in your jump-off point and destination, and it will calculate how to get from here to there, with an option to refine by shortest or flattest path and whether or not you're okay with riding on busy thoroughfares. Plus, it shows elevation changes, as well. Climbing can be a major pain in the ass, but it can help to know what you're up against (this nifty HillMapper is good for that as well).
Tomorrow, of course, is a special occasion, and the SF Bike Coalition will be setting up about 50 street-side stations in nearly every neighborhood, offering everything from energy drinks to quick tune-ups to burritos (mmm, burritos…). Need some moral support? These folks want to cheer you on! Here's an easily navigable map showing where they'll be posted up and what they'll be offering at each outpost.
View Bike to Work Day 2014 Map in a larger map
Follow the sharrow-lined road
What is a sharrow? Well, roads popular with riders but too narrow for a dedicated lane might have these guiding the way down the pavement. They've been strategically placed just outside the "door zone"—that bummer of a space where a driver-side door can swing out and knock you over—so feel free to roll right down the middle.
Ride the green wave
You know that potent rush that comes along with driving through every green on a long street and never having to brake, not even once? Well, hey—cyclists can unlock that achievement, too! Green waves are a series of lights that have been re-timed to accommodate slower vehicles (aka bicycles) at a consistent pace to improve traffic flow. In SF, Valencia, 14th, and Folsom are all on this sweet, sweet rhythm. Ooooh, feels so good.
Find your wiggle
San Francisco's "wiggle" is a well-known way to avoid tackling major urban mountains, but not everyone's going to ride through the Lower Haight on the way to work. The moral is that there are definitely ways around what appear to be insurmountable heights—you just have to find 'em.
About that gentle sweating…
Sweating is normal, natural, totally healthy, and not-cool-at-all in the wrong context (the wrong context is fully dressed in the clothes you're going to be sitting around in for the rest of the day). Biking to work might be a turn-off for people who have to look somewhat professional at their jobs, but there are workarounds. Before I worked from home, I'd toss my top in a bag and throw on an old t-shirt for the ride, then freshen up in the bathroom before heading in to stare at a screen. That works!
But there are actually companies out there making commuter gear that's got the pros of performance stuff without all the cons of looking like you're out to win the Tour de France. Outlier, New Road, Chrome Industries, Betabrand, Iva Jean, and Iladora are all good spots to find some sweet duds. Also: Wet Ones are a quick, inexpensive way to freshen up on the go.
Lock it up
You don't want to emerge from the office at the end of the day and find your ride's been swiped. Take note of how your bike's put together—i.e. quick-release front tire—and lock up accordingly. Here are our top picks.
Know thy Ten Commandments
Josh Zisson is a bike lawyer in Massachusetts who created a Ten Commandments for city cyclists across the country. Have a read before you head out so you're on the lookout for things like the "right hook," "left cross," as well as the two most important things to do if you get in an accident (get the driver's info and witness accounts).
Wear a helmet and use your lights at night
Please please please.
Have fun!
Seriously. You're not checking your phone, you're totally offline. It's an incredible opportunity to clear your head and get to know your city in a new way.
And, if you take part in Bike to Work Day, let us know how it went! Leave you story in the comments, below.