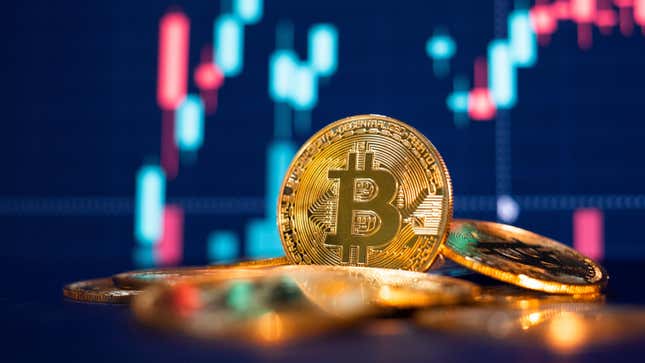 If the spectacular failure of Sam Bankman-Fried's FTX exchange wasn't evidence enough, the crypto bubble has officially popped. Now, Bitcoin, one of the most widely used cryptocurrencies, has fallen to a two-month low.
Why Should Crypto Currencies be Called Securities? | Gizmodo Interview
Reuters reports that today Bitcoin fell to its lowest value since June 16—its value this morning was $26,172. That's a slight improvement over the state of the cryptocurrency on Thursday when it fell 7.2% to its lowest valuation since November 2022. By 4:35 a.m. Eastern Time, the digital currency saw a small uptick in value to $26,441 according to the outlet.
Analysts claim that the drop in the cryptocurrency's value comes after news broke that Elon Musk's SpaceX wrote down the value of the Bitcoin it held by $373 million. Reuters quotes Ben Laidler, a global markets strategist from eToro, as saying that the SpaceX news was an "immediate catalyst" for the falling valuation. This is unsurprisingly not the first time Musk has (allegedly) influenced the crypto market. The billionaire tech CEO was accused of insider trading and sued by investors of his companies over his efforts to inflate the price of Dogecoin. Other analysts, however, argue that Bitcoin's drop in value is merely due to low volatility and a lack of enthusiasm from retailers, according to Reuters.
The freefall in value feels like par for the course for Bitcoin. While the crypto has made a lot of gains in global adoption, a majority of those who invest in Bitcoin still wind up losing money according to The Bank of International Settlements. A working paper released by the institution says that 73 to 81% of new crypto speculators will inevitably lose money after their initial investment—a majority of those investors are "risk-seeking" men under 35 looking to make a quick buck.