Obviously, Avengers: Infinity War isn't Black Panther 2, but it will offer fans of the Marvel mega-hit an early look at where Wakanda is at after the coup of Erik Killmonger. That includes T'Challa's loyal general Okoye, played by Danai Gurira, who's seen fighting alongside the Avengers in the trailers for the film—a fight that the leader of the Dora Milaje isn't ready for.
As we now know from Black Panther, Okoye is fiercely loyal to Wakanda and its throne, so much so she even goes against T'Challa when Killmonger takes over. She was worried about opening up Wakanda to the world, and her king's decision. On the set of Infinity War, Gurira explained that Okoye wasn't prepared to deal with the ramifications of it, and still isn't.
"There are other characters who are more ready to do it. She's not ready," Gurira said. "The changes that they go through, to the point where they are opening up their borders and they are letting people know who they are, is something that she really has to journey through."
That Thanos and his alien army invades Wakanda so soon after the country opens its borders is essentially Okoye's worst-case scenario. "She's always thinking about how many things can go wrong, how much she can control, what could go wrong before it goes wrong, but there's not a lot of control that she can have over something that's coming that's this massive," Gurira said. "That's where her caution is. That's where her concerns lie. ... Her entire vocation has been to maintain this nation... [and] this is one of the biggest threats they've dealt with."
G/O Media may get a commission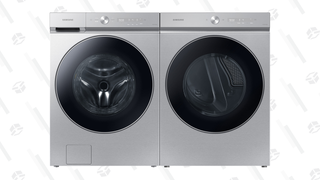 Get $500 back in credit
Last Chance: Samsung Bespoke AI Washer and Dryer Preorder
Although Gurira couldn't say what Avengers Okoye would interact with (the interview took place in June 2017), we know from both the end credits of Captain America: Civil War as well as Black Panther that at the very least Bucky (Sebastian Stan) is already in Wakanda, recovering from his Hydra brainwashing, when Infinity War begins.
The war with Thanos may be out of her control, but at the very least Gurira knows Okoye can take care of Bucky if he proves to still have issues. "He's one guy, so he's manageable," she said. "She knows how to disarm that arm."
Read more about our visit to the set of Avengers: Infinity War below. The film opens April 27.