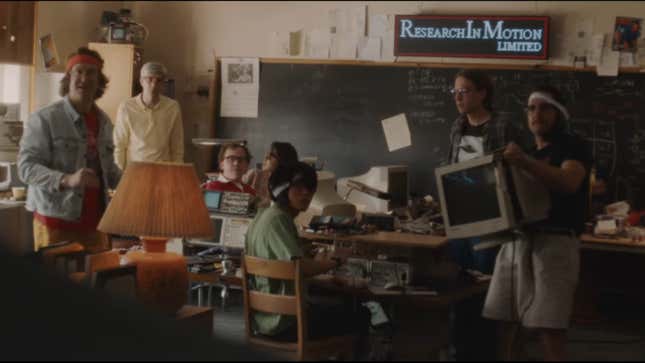 Remember the BlackBerry? Remember how BlackBerry was getting its own movie? Well, now we've got our first trailer, which depicts the rise and fall of the infamous company that brought us the phone that ensnared CEOs, celebrities, and even presidents in its grip.

If you weren't already tired of Hollywood dramatizations of tech SNAFUs, this new trailer does bear a big resemblance to other movies like The Social Network or Steve Jobs, with its washed out color scheme and strangely sentimental take on young tech folks being led astray by the machinations of big bad businessmen. Except, it's going for a more comedic angle akin to Apple TV+'s newly announced Tetris movie.
How to Hide Your Sensitive Images in Google Photos
That's in part thanks to Glenn Howerton's (definitely not a psychopath) energy from It's Always Sunny in Philadelphia. Here, Howerton's channeling it to play Canadian businessman and former Research in Motion co-CEO Jim Balsillie. Canada's own Jay Baruchel seems to be playing up BlackBerry co-founder Mike Lazaridis as an ambitious though woefully unprepared young man being led astray, while writer and director Matt Johnson seems to be going for Steve Wozniak vibes as co-founder Douglas Fregin. "It's like the force," the bandana-wearing Doug tells Balsillie, trying to explain the "free wireless internet signal" in North America that nobody had yet figured out how to exploit.
The movie is loosely based on the 2015 book Losing the Signal: The Untold Story Behind the Extraordinary Rise and Spectacular Fall of BlackBerry and chronicles BlackBerry's start as Research in Motion before its phones became so popular that they were making $20 billion in sales annually. Then-President Barack Obama was a well-known BlackBerry user, and Kim Kardashian famously held onto her BlackBerry after the iPhone debuted, though she dropped it after her Bold 9900 died in 2016, and she didn't pick up a new one when BlackBerry started using Android.
Both Lazaridis and Balsillie left RIM in 2012. Their fallout was infamous at the time, and it will be interesting to see how the film depicts the near-20 years of history between the two men.
Of course, with the introduction of Apple's iPhone, BlackBerry's fortunes immediately changed. Since then, the company's phones tried to keep going on with their physical keypads, even as they progressively shrunk over time. Hell, after 2022, old legacy Blackberry devices not running Android OS can't even call 911 in emergencies anymore. PlayBook OS and the PlayBook tablet also failed to be a real iOS and iPad competitor.
Of course, there haven't been any real BlackBerry devices for a few years now. TCL bought up the rights to BlackBerry, but the license has moved on to OnwardMobility, which did at one point say it would make a 5G Android-based phone with the old BlackBerry logo. Unfortunately, it seems like any hopes for a new BlackBerry-branded phone are kaput. Maybe the film will generate enough buzz for somebody to pick up the rights. At this point however, it might be better just to let the old CrackBerry lie in its grave, finally at peace.
The movie already made its debut at SXSW Monday, and its set for a wider release in theaters on May 12.