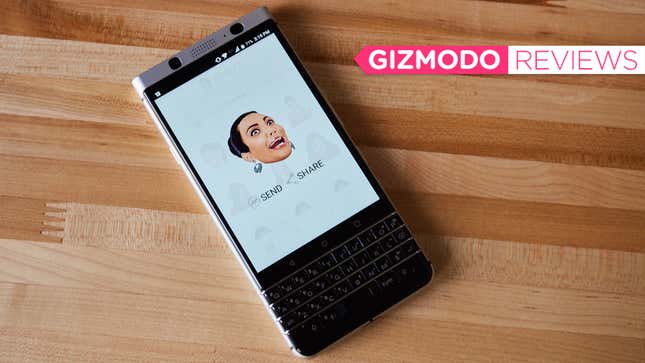 Pardon me dear readers. Normally this space is reserved for missives to you, but I am positive you do not care about the BlackBerry KeyOne, a new phone from BlackBerry Mobile. Besides Kim Kardashian, very few people have cared about BlackBerry phones in recent years. That's why today I'm going to take a moment to reach out to Kim. The girl's been a wreck since her ancient Bold 9900 died last year, and I really think she needs to know there's a new, actually kind of excellent, BlackBerry device.
The Boogeyman's Sophie Thatcher Reveals What Draws Her to Dark Characters | io9 Interview
---
Dear Kim, light of my existence, harborer of my heart, and port in the storm of life:

I know how upset you were last year when your ancient Bold 9900 finally died. Our mutual friend Chrissy Teigen sent you condolence flowers. You were one of, like, twelve people still loyal to BlackBerry. Which the company acknowledged by sending you a BlackBerry Priv. But the BlackBerry Priv is a garbage phone. We wouldn't wish it on our worst enemy. (Besides, you have other ways of publicly humiliating your nemeses.) But rejoice, dearest Kim, because the new BlackBerry KeyOne is not a garbage phone. In fact, for the very small number of people like you, it's a solid device.
I know girl. I was shocked as hell too.
The last few months have been rough for you, what with the robbery and Kanye being Kanye—not to mention Kendall's unfortunate involvement with that bad Pepsi ad and the Fyre Festival. (Honestly, the last six months have been rough for all of us.) But in spite of everything that may be going on in the world—or in your world—this phone is good news! Even if it's kind of a weird BlackBerry. It's not produced by BlackBerry (formerly known as RIM), but by BlackBerry Mobile, a new brand licensed to Chinese TV maker TCL.
The KeyOne is the Blackberry brand's latest attempt to stay relevant in a world of Apple iPhones and Samsung Galaxies. It runs on Android (Android 7.1 Nougat, to be exact), which means that unlike your old Bold, you can use the Kimoji keyboard app and play your game. But it's still a BlackBerry, so there's a keyboard, and unlike the Priv, which had a mushy slide-out keyboard, the KeyOne's keyboard is built into the device, solid as hell, and kind of perfect if a person is like you, Kim, and misses having a nice physical keyboard.

The keyboard on the KeyOne even has a few tricks. There's a fingerprint sensor built right into the space bar. That's totally better than the trend of putting it on the back of the phone, and the sensor allows you to approve Google Play purchases with a touch, so North won't be able to make those accidental in-app purchases that Kanye hates so much. The best part of the keyboard might be that you can assign shortcuts to each individual key. I set the "I" key to launch Instagram. This was great, except for when I was in the text app. The keys do not launch apps or function as speed dial buttons when in text apps. But the keyboard does function as a trackpad in a pinch. This made it much easier for me to scroll through photos from the Met Gala.

But girl, there is a trade-off when your BlackBerry has a great keyboard. It means the screen is small compared to the screen on everyone else's fancy flagship phone. Scrolling on the keyboard is just easier than scrolling using the display. If you've been jealous of the Samsung Galaxy S8's 5.5 inch display or even the Apple iPhone 7's 4.8 inch display, then the KeyOne's 4.5 inch screen is a bummer. But thanks to the phone's design the display also has a very square 3:2 aspect ratio. That's awful for watching movies, but practically perfect for making sure a photo will be fire on Instagram.
And that's very easy because BlackBerry gets you girl, and while it couldn't afford to put a professional photographer into every single phone, it did put a 12 megapixel camera on the back. The camera, which uses the same sensor as the Google Pixel, takes great photos, which rival shots taken on a Samsung or Apple phone. The front camera is a lower-resolution 8 megapixel affair. But don't worry Kim my darling, it can still handle your daily selfies.

Yet let's be real about something Kim, the KeyOne is not gonna win any fashion awards. The phone is thicker and heavier than an iPhone 7 or Galaxy S8. It feels solid and durable in a way those phones do not, but don't throw this at Khloe's head. That would be considered assault with a deadly weapon.

Besides the battery life is too nice for you to just be using the phone as a BlackBerry-shaped bludgeoning device. I easily got through two full days of regular use without reaching for the USB-C charger, and because it uses Qualcomm's Quick Charge 3.0, the phone juices up super fast.
If BlackBerry Mobile starts hounding you about this phone, Kim, its PR reps will probably talk up the included BlackBerry Hub and the DTEK security apps. Even though you of all people could probably benefit from a more secure phone, I don't think you'll care that much about these features. The BlackBerry Hub is just a giant inbox for all of your messaging accounts (Instagram, Facebook, Gmail, Twitter), and although that sounds nice in theory, it can be overwhelming if you get a lot of notifications. My advice is to not even bother with that stuff and just enjoy the Android experience.

Most people are still going to make fun of you for rocking a brand that hasn't been relevant since George Bush was in office. That's okay, Kim! BlackBerry has been so lame the last few years that I get it if you're a little reticent to carry around its latest hefty brick. But this phone, with its capacitive physical keyboard was designed for you (and BlackBerry's other primary demographic, aging lawyers who still use WordPerfect). The $550 BlackBerry KeyOne is an attempt at making a phone the rest of us would want to use, and it's so solidly built, with a great camera, and excellent battery life, that I'm almost wooed myself. This is the closest to a winner that BlackBerry's built in years.
Love,

Christina
---
README
It's thicker and heavier than other flagship phones like the Samsung Galaxy S8 or iPhone 7, but it also feels sturdier.
The keyboard is actually great.
The display is small and the 3:2 ratio isn't friendly for video, but it's perfect for photos on Instagram or Snapchat.
Lol a BlackBerry that's not terrible.