The distance between expectation and reality makes fools of us all, but it made the well-heeled attendees of an exclusive music festival in the Bahamas look particularly moronic late Thursday night. For tickets that started at $1,200 and went as high as $250,000, the young and rich signed up for passage to the doomed Fyre Festival, hyped for months by its co-founder, rapper turned aspiring mojito mogul Ja Rule.
Attendees were promised three days of luxury and performances by Blink-182, Desiigner, and Rae Sremmurd. Promotion for the festival launched in December, with a glamorous Instagram video of supermodels yachting and sipping champagne on a stunning coastal island. Here's what ticket holders got instead:

Basically, these people were sold a prix-fixe, 'gram-ready vacation for thousands of dollars and showed up to a hastily assembled disaster zone with scant security, food or housing. On Friday, the Bahamas Ministry of Tourism went so far as to issue a statement distancing itself from the event it characterized as "total disorganization and chaos," saying Fyre's organizers "did not have the capacity to execute an event of this scale." Headliners Blink-182 were among several artists that publicly pulled out after word of the debacle spread, but The Wall Street Journal reported weeks ago that the festival's organizers were struggling to pay their top performers. Across the board, it seems like no one's expectations were met.

Expectation: (pencil-drawn?) luxury accommodations. Reality: disaster-relief tents.
G/O Media may get a commission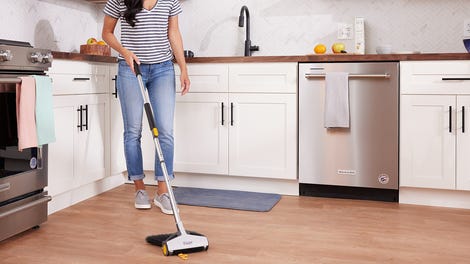 BOGO 50% Off
Flippr - BOGO 50% Off
Expectation: gourmet offerings of culinary brilliance. Reality: cheese sandwiches.

Expectation: five-star service. Reality: Jersey Shore extras dumping your Louis Vuitton from a shipping container into the sand.

As of Friday morning, all flights into Great Exuma had been cancelled, and Fyre's Instagram account announced that it was offering full refunds due the festival's "unexpected start." But for those on the island, it was a dodgy process.
Attendees reported being stranded on the tarmac for hours, waiting on "rescue flights" back into the US. One attendee allegedly sat on the runway for so long they were forced to deplane and board a different flight. Others said they weren't being permitted to leave the airport, with officials chaining the exit doors. Reportedly, the US Embassy is even involved in an evacuation.
But there might be more to this story than a bunch of dumb rich kids allegedly conned out of thousands by a rapper who hasn't had a top 20 album since 2004.
Ja Rule launched Fyre in 2015 with then-23-year-old tech entrepreneur Billy McFarland. McFarland's most famous previous venture was the Magnises Black Card, which, despite the name, is not a credit card. Instead, customers pay $250 a year for an array of comically pointless perks and a card that isn't linked to any financial institution. From Inc:
Magnises charges its members $250 a year to attend exclusive events, conduct meetings in its private spaces, and use its "digital concierge" mobile app. The app lets members send text message requests for things like restaurant recommendations and uses an algorithm, based on their stated preferences, to match people with places they'll enjoy.
Essentially, it's a faux "black card" that does nothing but slightly assuage the psychotic need of the young and rich to consume more and more, charging people $250 for 8 cents in plastic and a few Sam's Clubs perks. Despite the card's questionable utility, McFarland has reportedly raised almost $3 million in venture capital for Magnises.
With the black card from nowhere and the vacation to hell, McFarland has apparently applied the tech world's "move fast and break things" mantra to millennial narcissism. But while the target of McFarland hustle makes it fun to read about, its ugly, underlying ethos doesn't just apply to useless, luxury bullshit.
Here's the hottest take: We're all Fyre Festival attendees. Silicon Valley routinely sells us on the latest, futuristic "breakthrough" and ultimately gives us a soggy cheese sandwich and a waylaid camp tent. The promise of artificial intelligence has been delivered as a talking mirror. The promise of police body cameras has been delivered as total surveillance. And the promise of self-driving cars has been delivered as an SUV blowing through a red light that no one, apparently, is responsible for.
In a world filled with overhyped nonsense, Fyre offers some easily appreciated schadenfreude. But once the laughter's over, it's worth asking how far the con really goes.
Update: 4/28/2017 3:30pm EST: Ja Rule tweeted a heartfelt and selectively all-caps apology, noting that the festival definitely "NOT A SCAM" and, of course, "NOT MY FAULT."

Interestingly, Ja's location is turned off, raising the question of where exactly he was as the chaos on the island unfolded. Did he ever make it to the island? We reached out and will update if we hear back.